This Hemingway Condo is located conveniently close to the ocean and in the heart of the Deerfield Beach entertainment district, only two blocks from the local attractions that have made the city a preferred vacation destination. This beautiful, very large 1,610 square feet second floor condominium is perfect for up to 6 family or friends to enjoy during any South Florida vacation stay.
The 3 bedrooms and 2.5 bathrooms are surprisingly roomy, and this delightful condo has attractive upgrades that put a premium on comfort and style. Striking luxury floors are done in hand-picked marble tile from Turkey, and the floor-to-ceiling windows throughout mean you're always within sight of an epic view. The two outside terraces are over sized and dramatically spacious, with the corner building location providing a west facing view that is perfect for taking in an unobstructed look at the inspiring and romantic sunsets. The outside terrace by the pool has both an outside living room section for lounging and an outside dining room section.
The master bedroom is stylishly decorated, with a spacious king-size bed, a designer bathroom, and a flat screen TV. On the opposite side of the condominium is the second bedroom, which features a queen-size bed and a full bath. The living room offers a separate TV section with comfy seating completely separated from the dining area and the third bedroom with its own patio. The photos really show it all! Internet is included.

The building dates from 2009, brand new and designed to impress. The modern design demonstrates the quintessential "Miami look" and features several glamour touches, including an ultramodern infinity pool and sheltered patio area, gorgeous landscaping, and of course the unbeatable location.
Deerfield Beach is a preferred vacation destination for a reason: the local beach is a favorite of surfers and boasts excellent water quality and conditions, and some of America's best lifeguards and safety services. Enjoy beach volleyball, water craft rentals, scuba & snorkeling, and more. Try "cable skiing" (think surfing + skiing + wakeboarding) at Quiet Waters Park. The area is also a dining and entertainment mecca, with waterfront restaurants, bars, cafes, shops, and the Cove Shopping Center.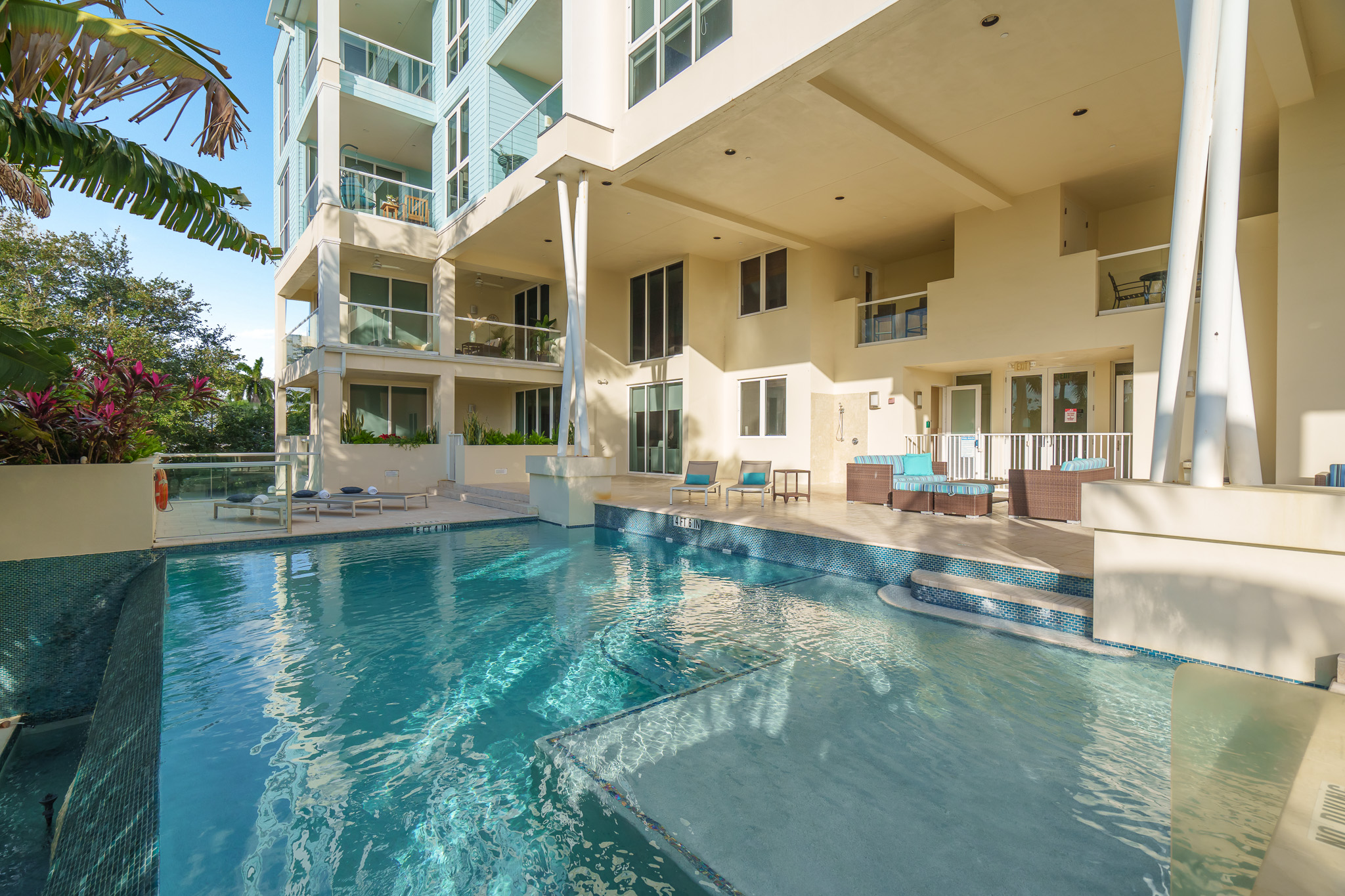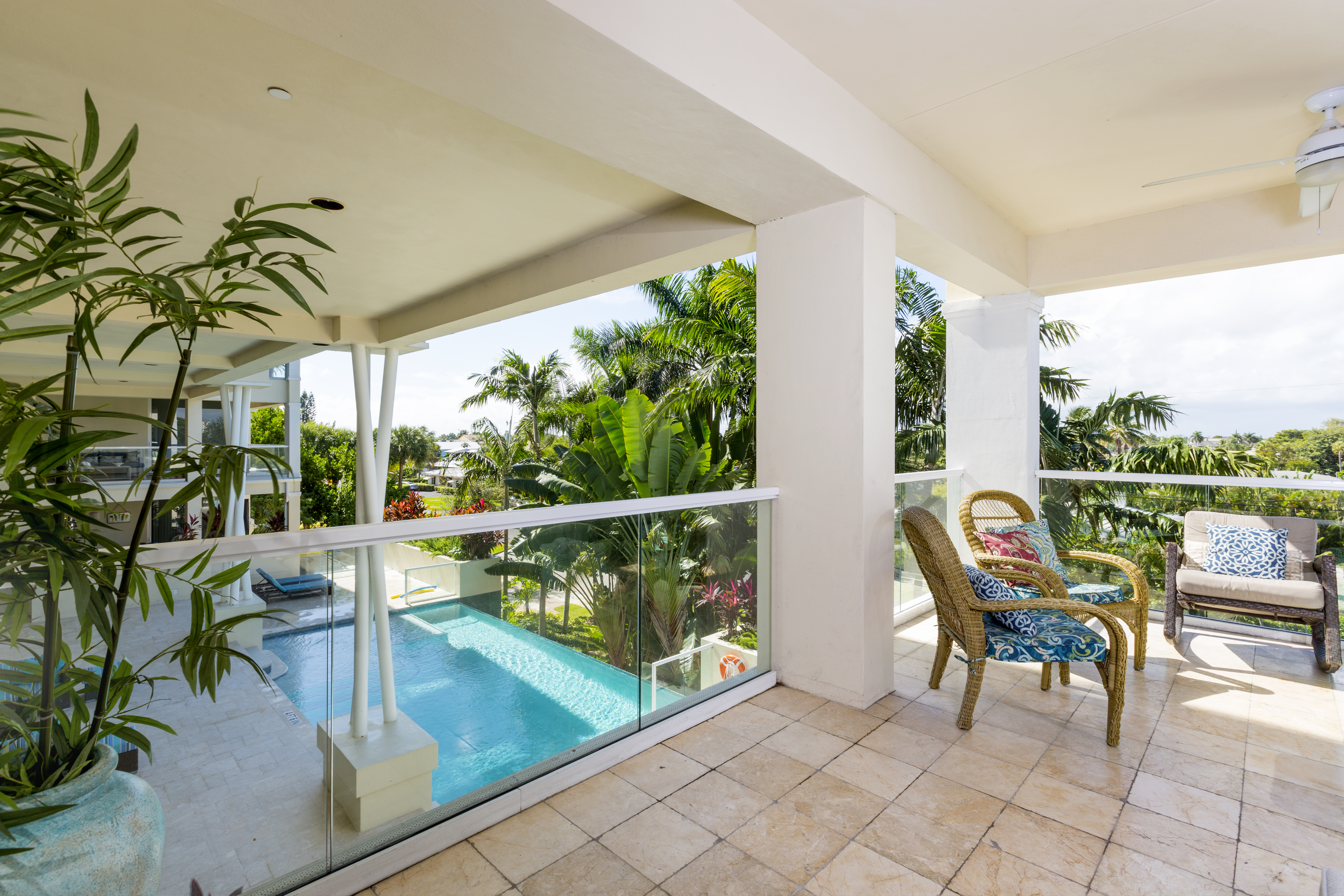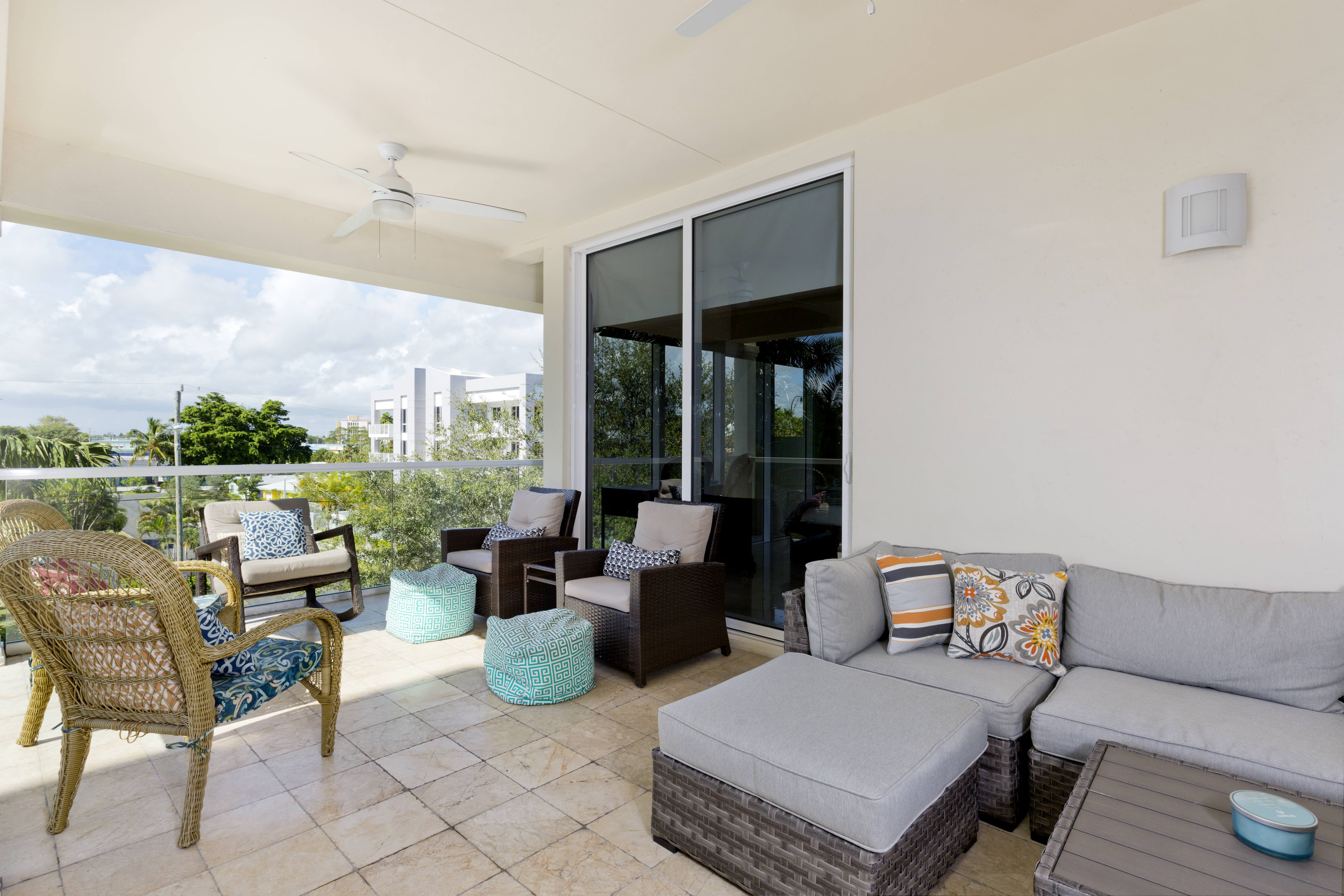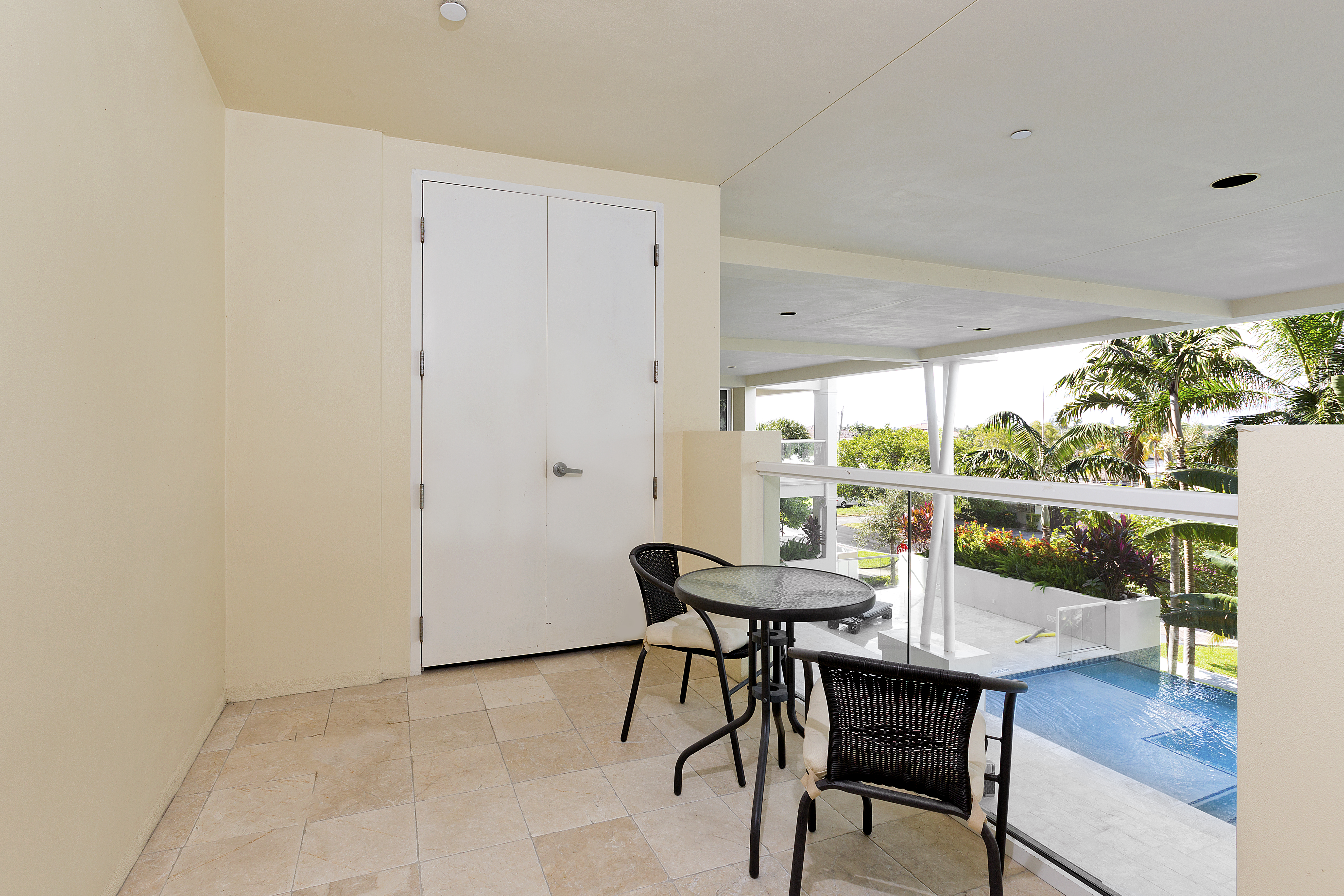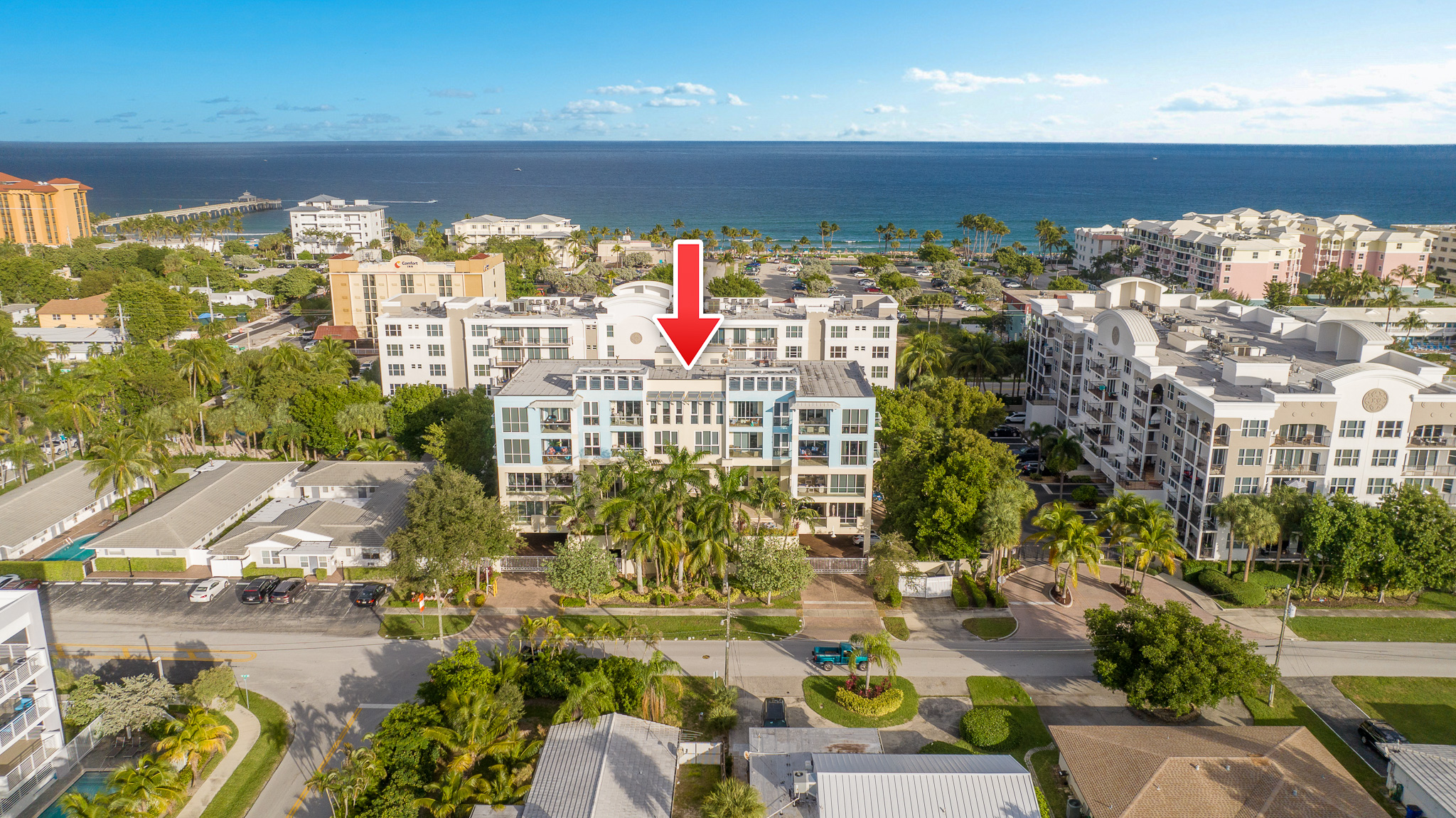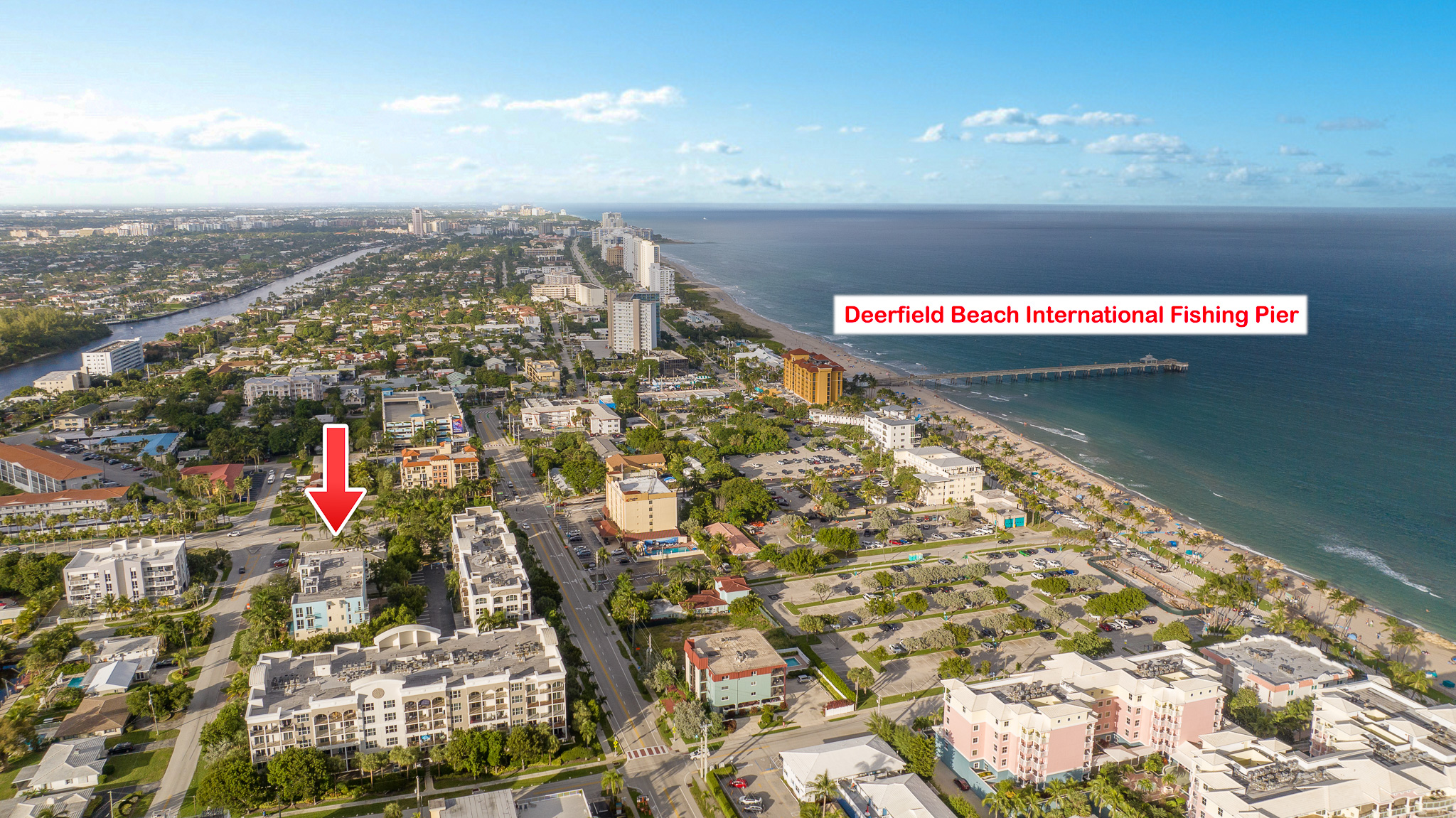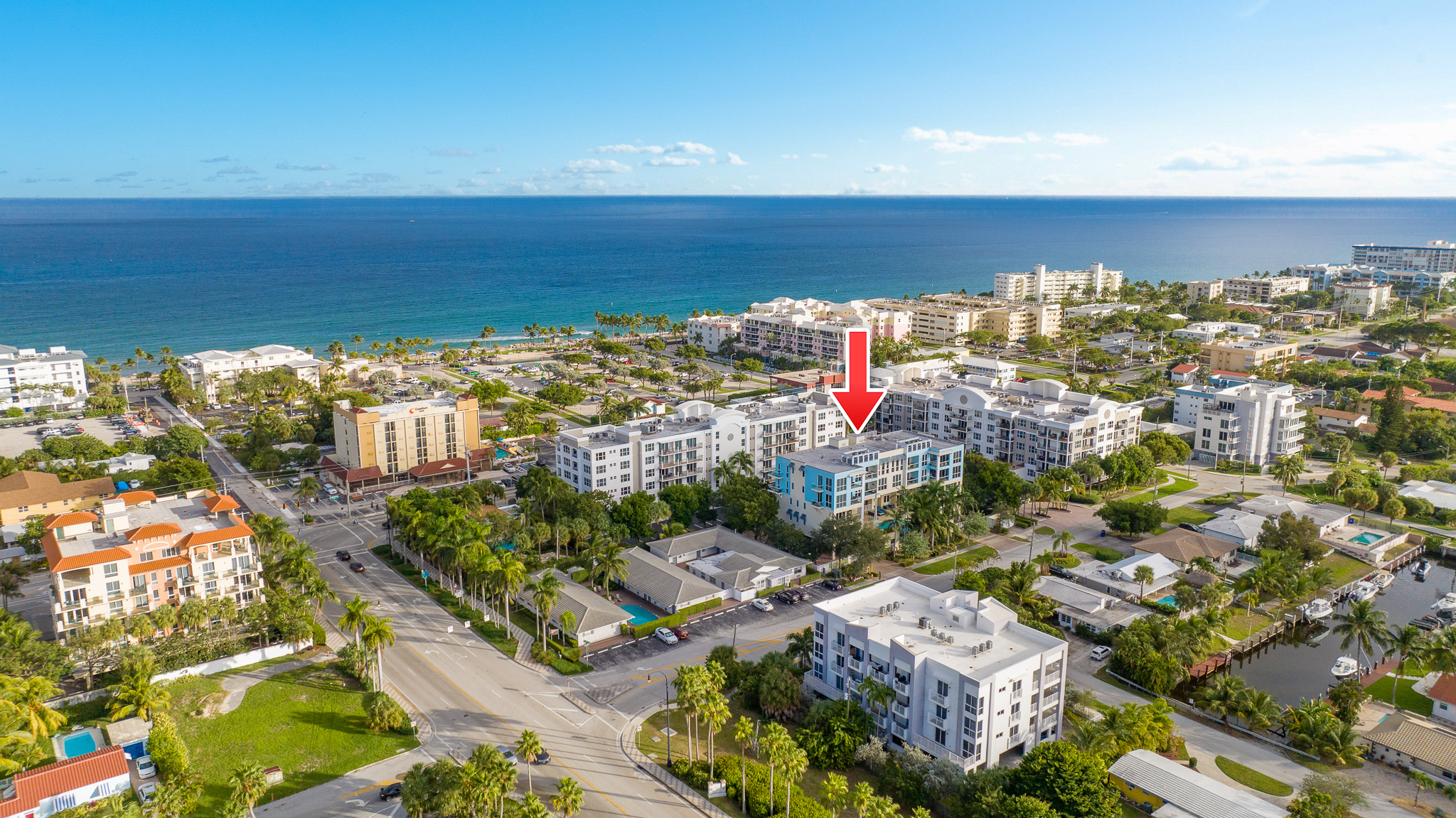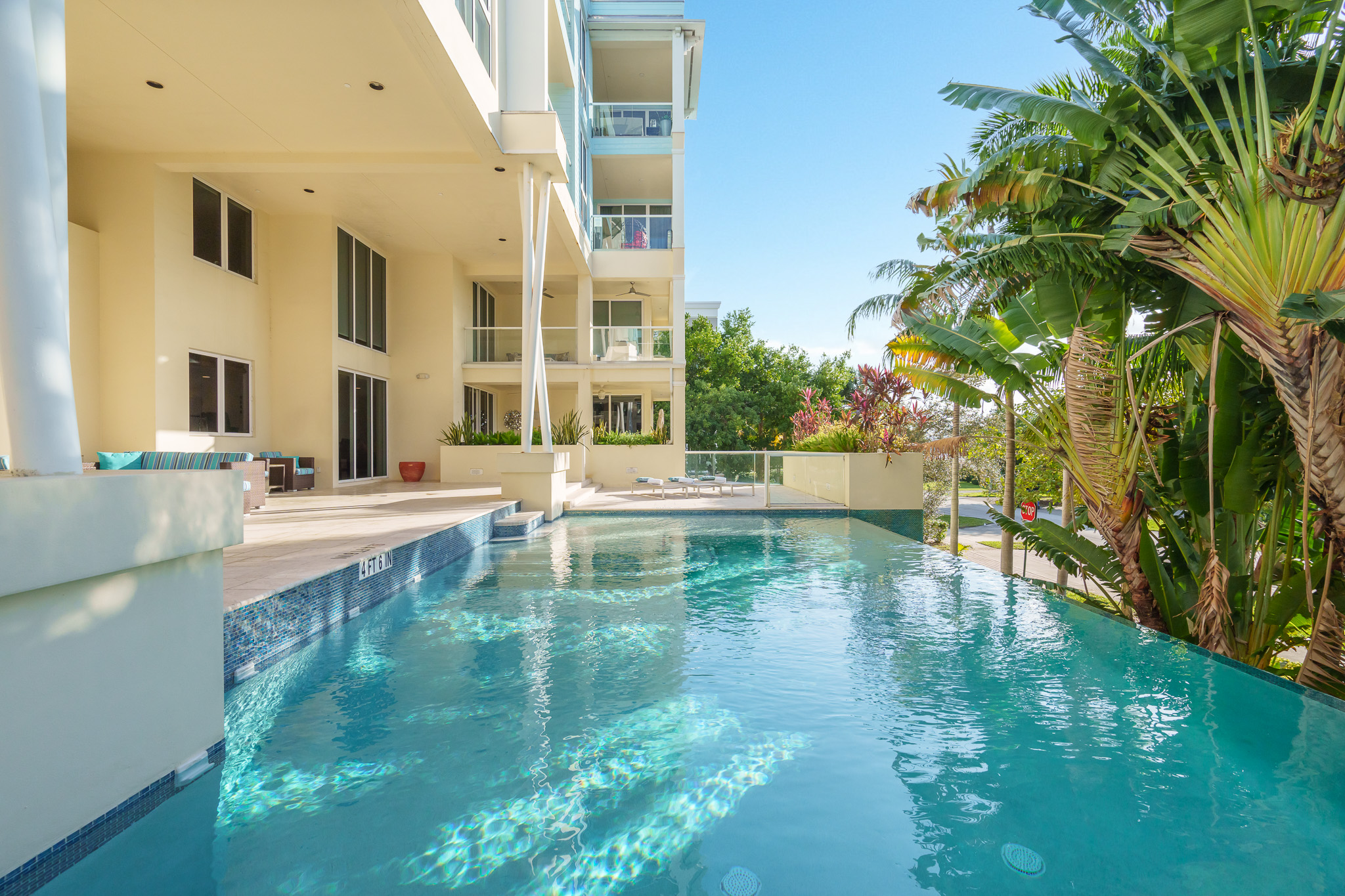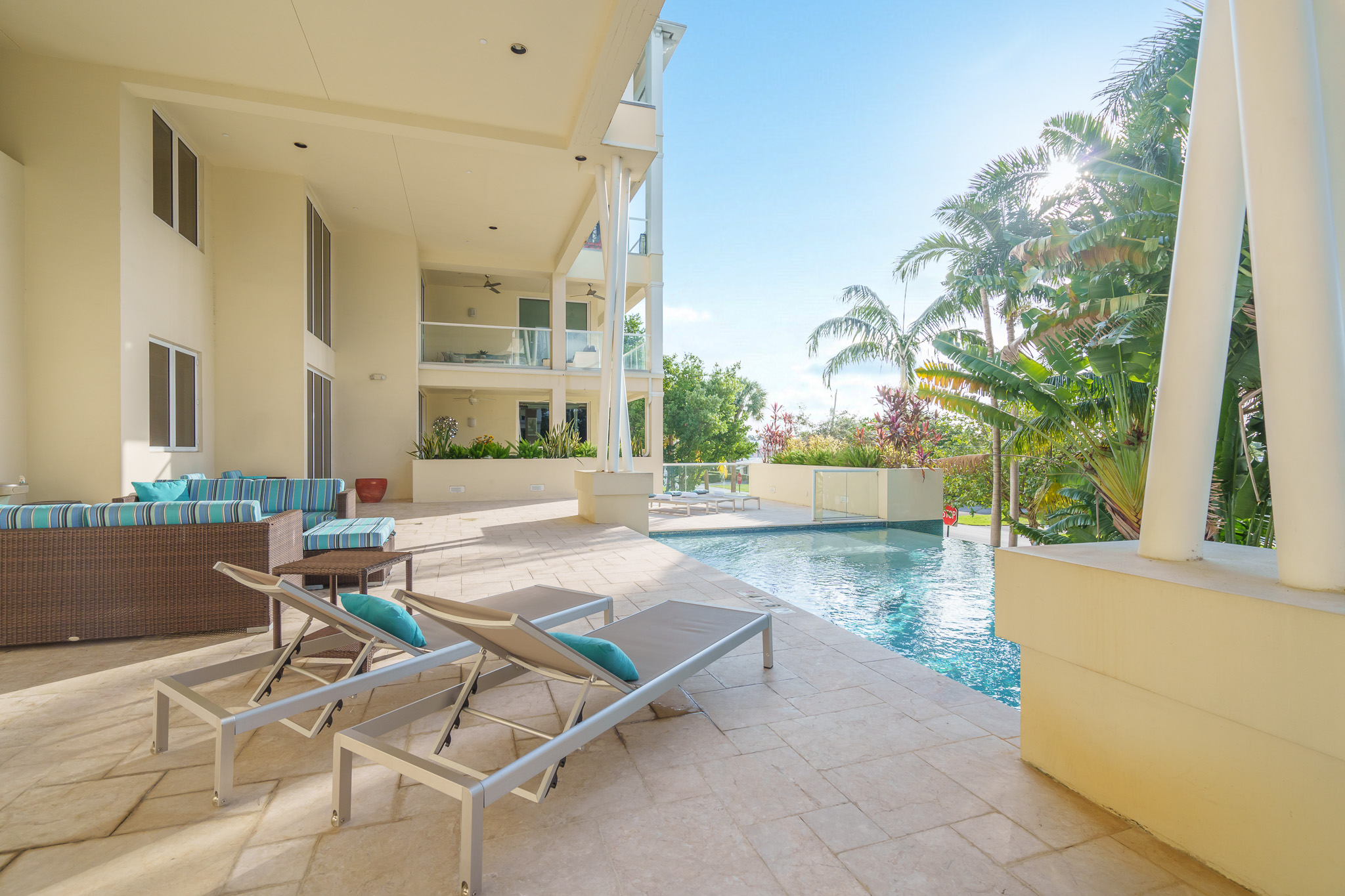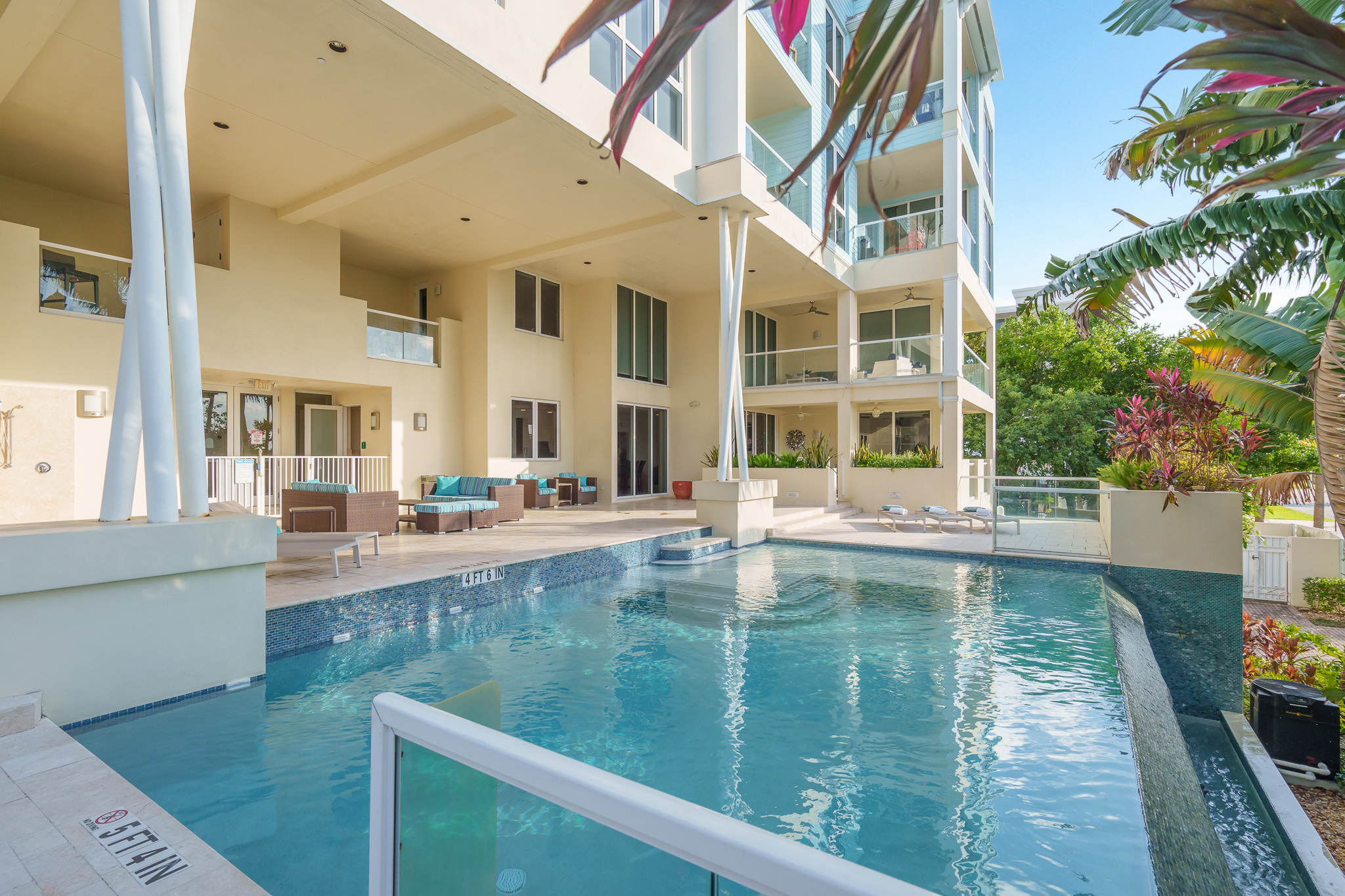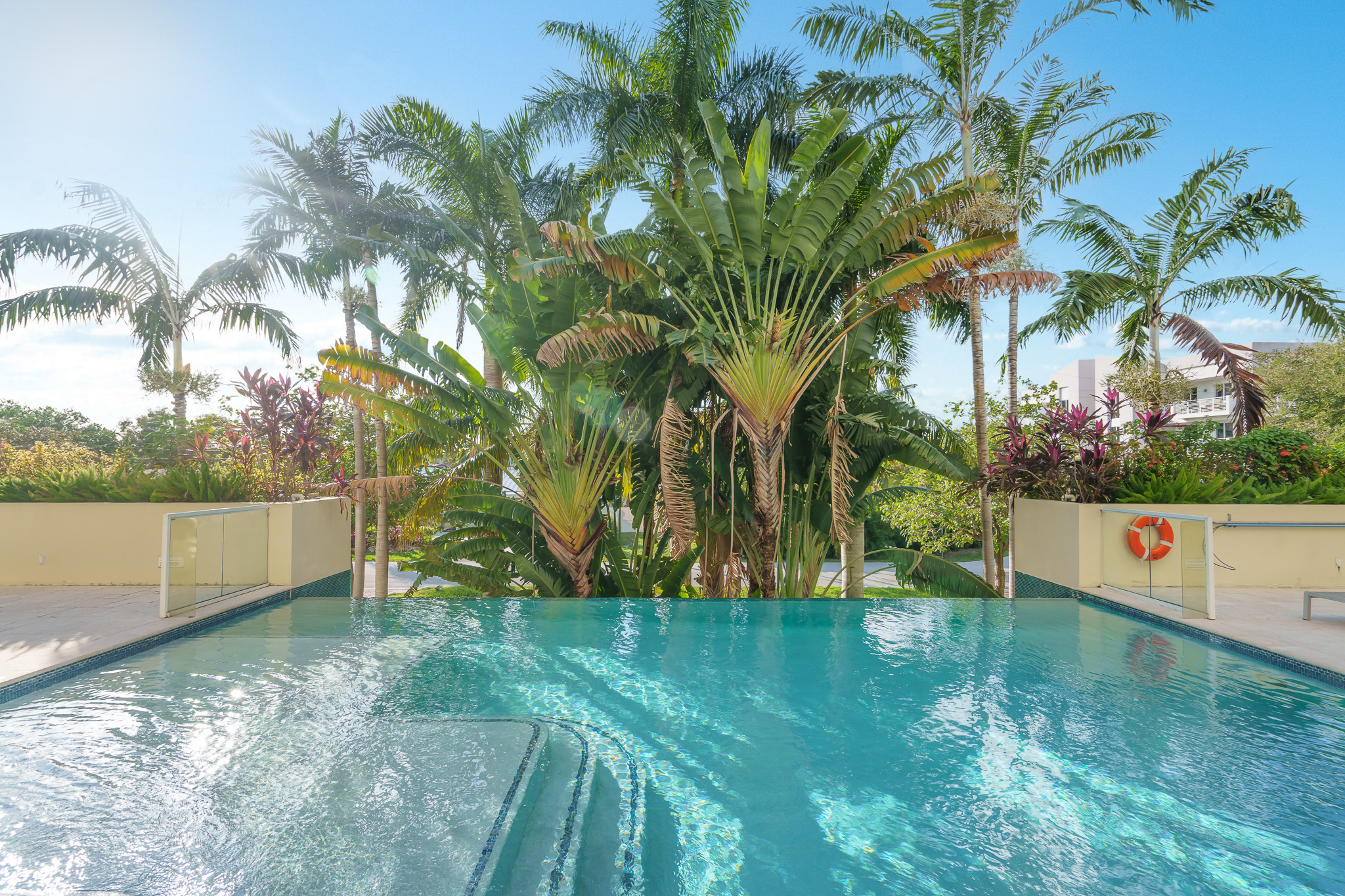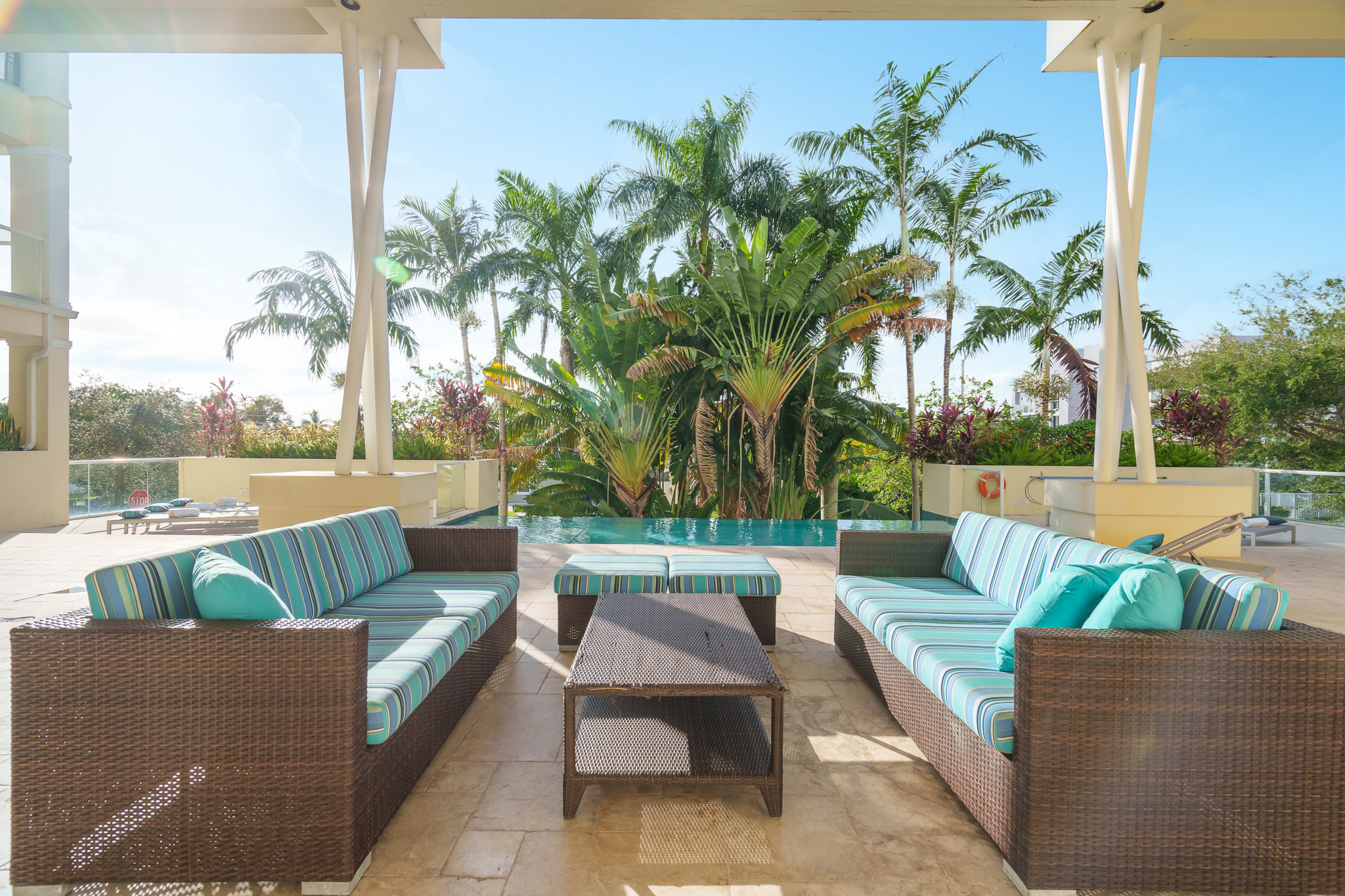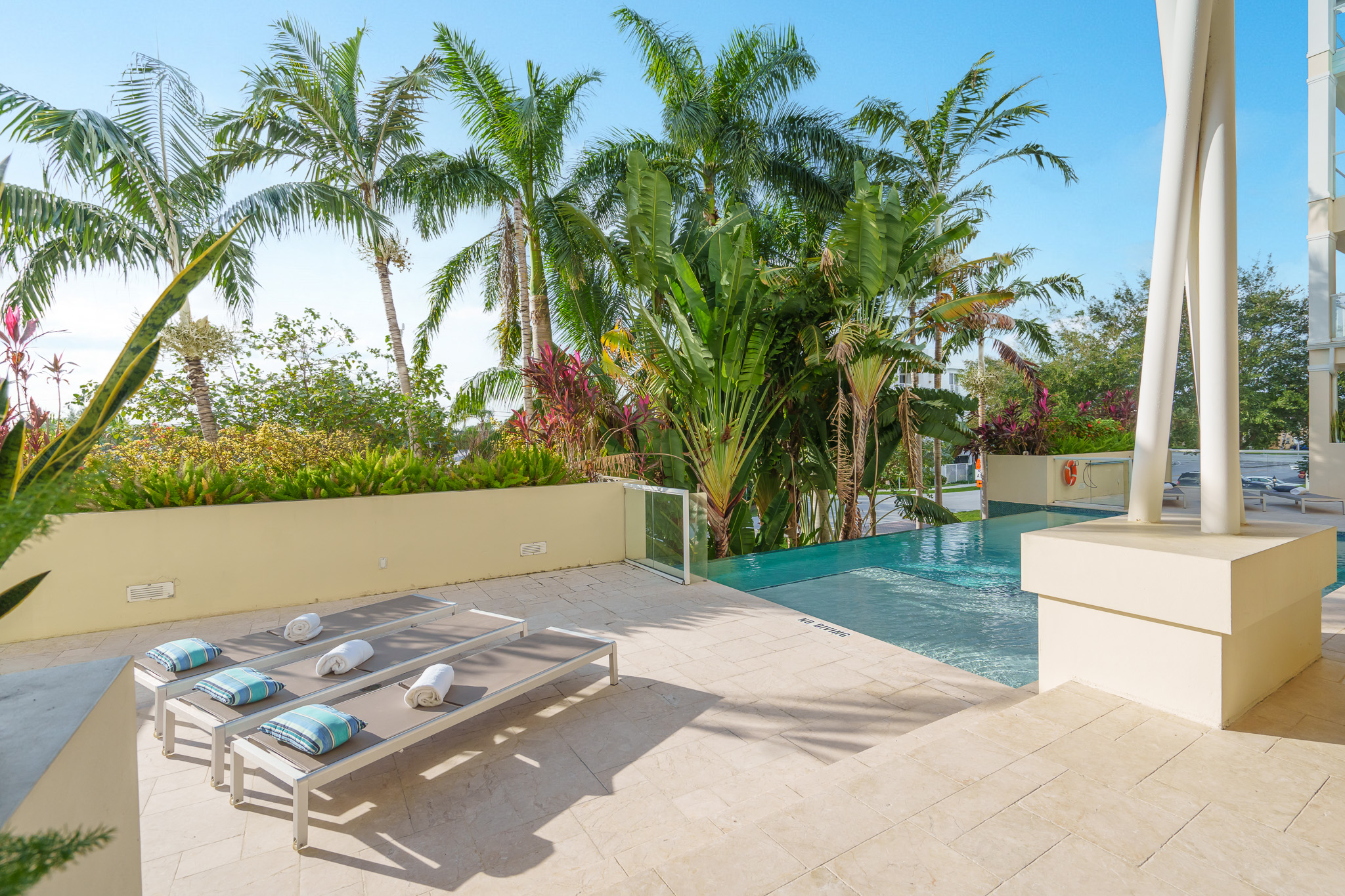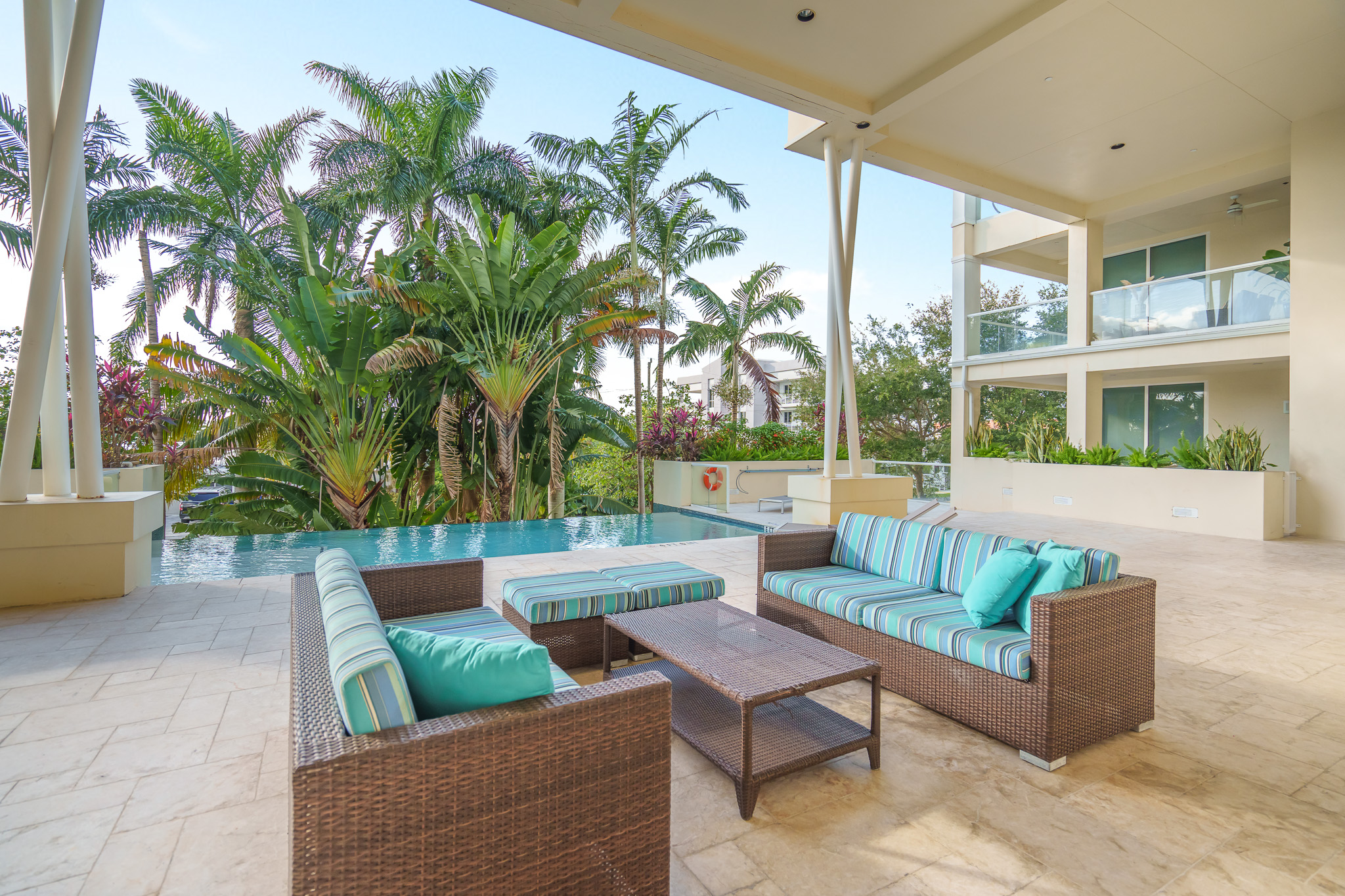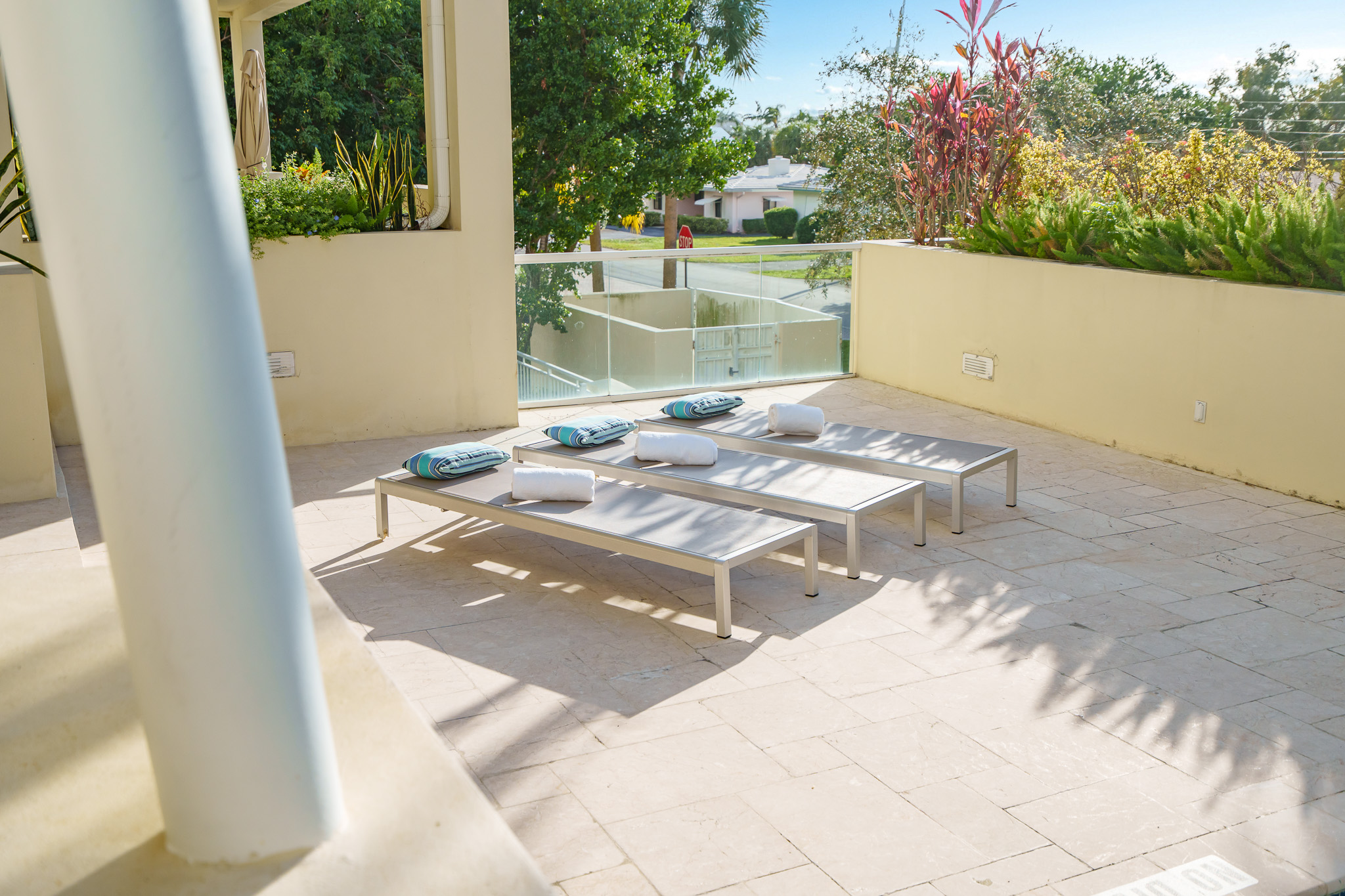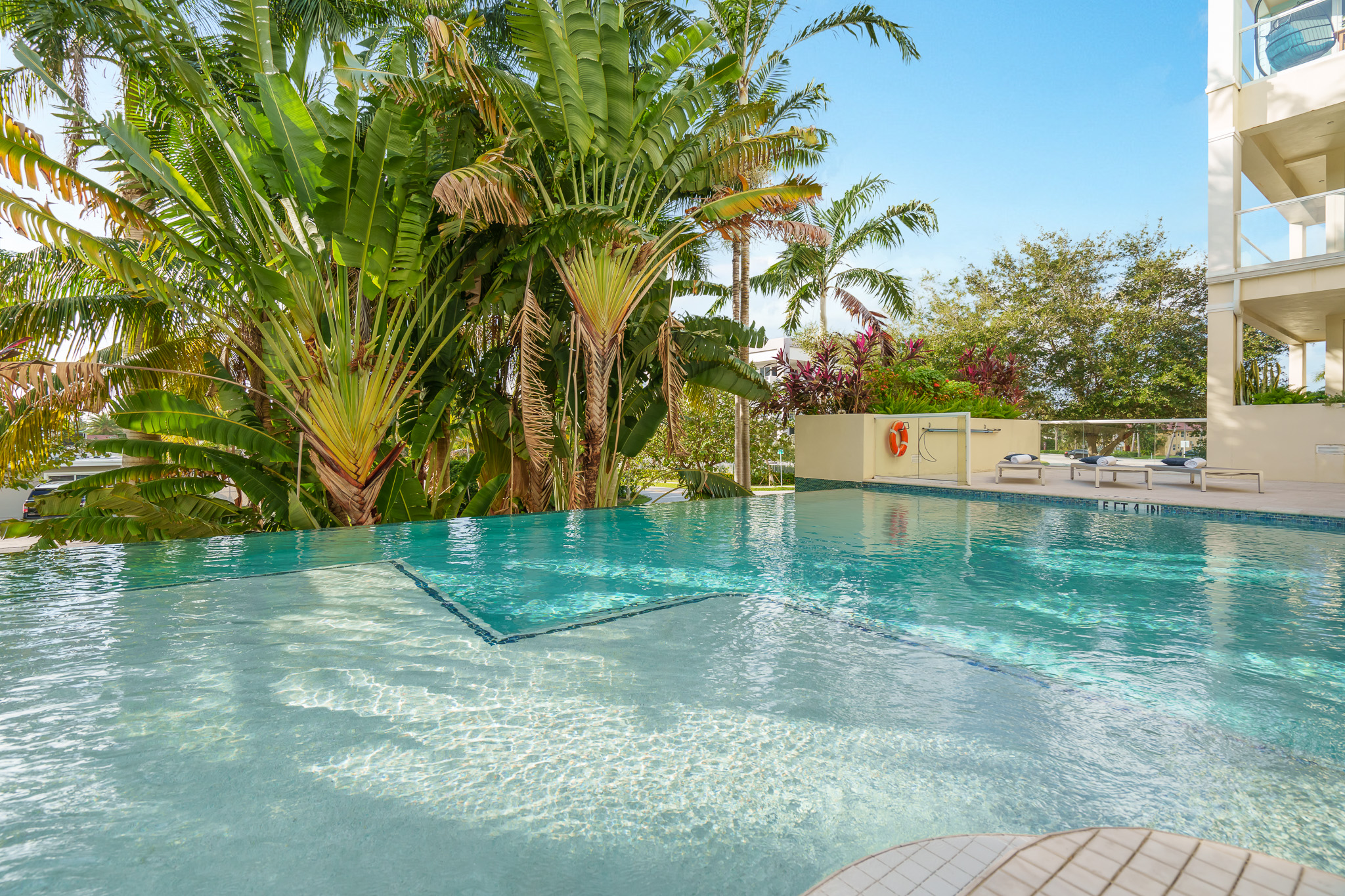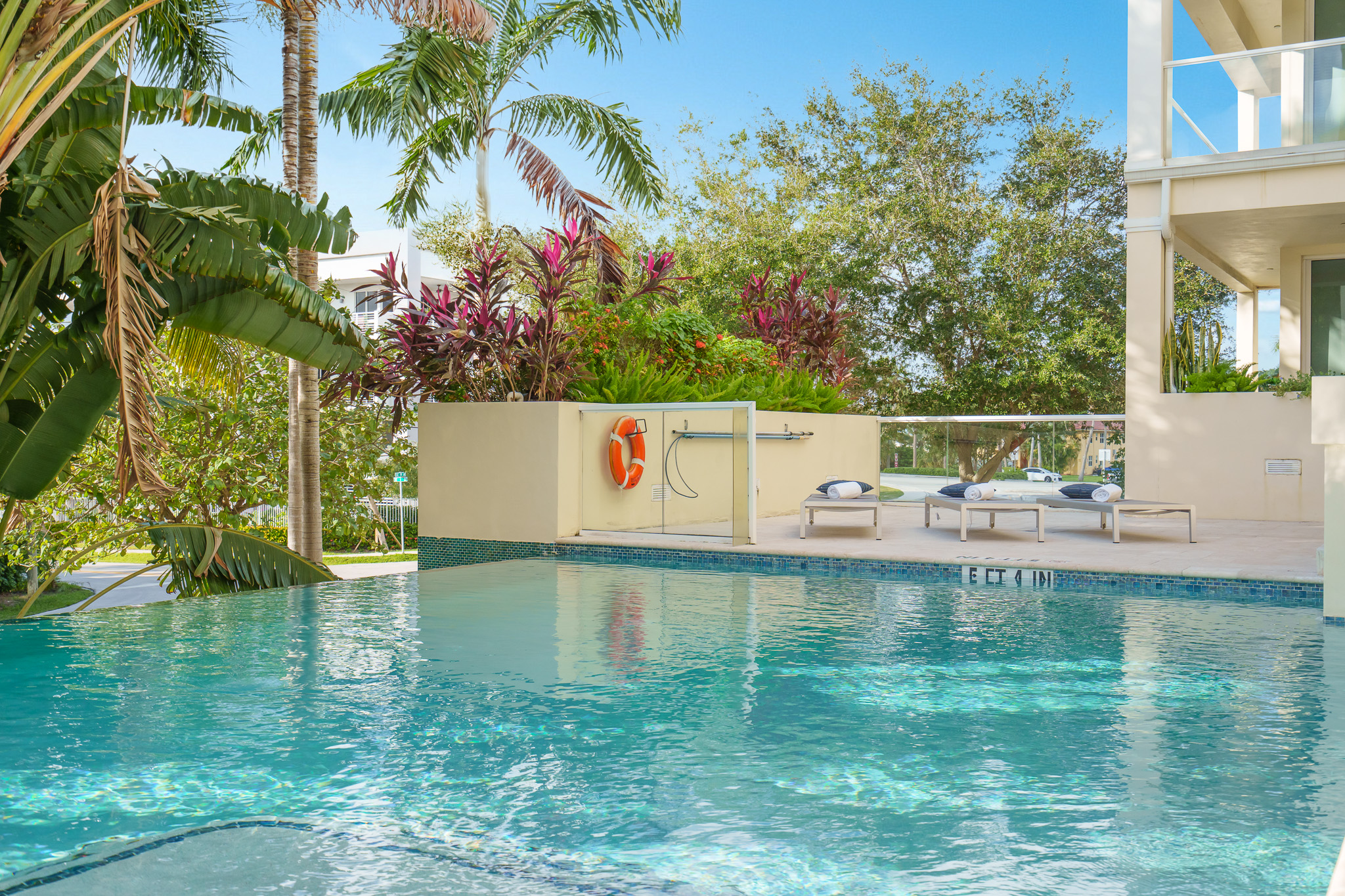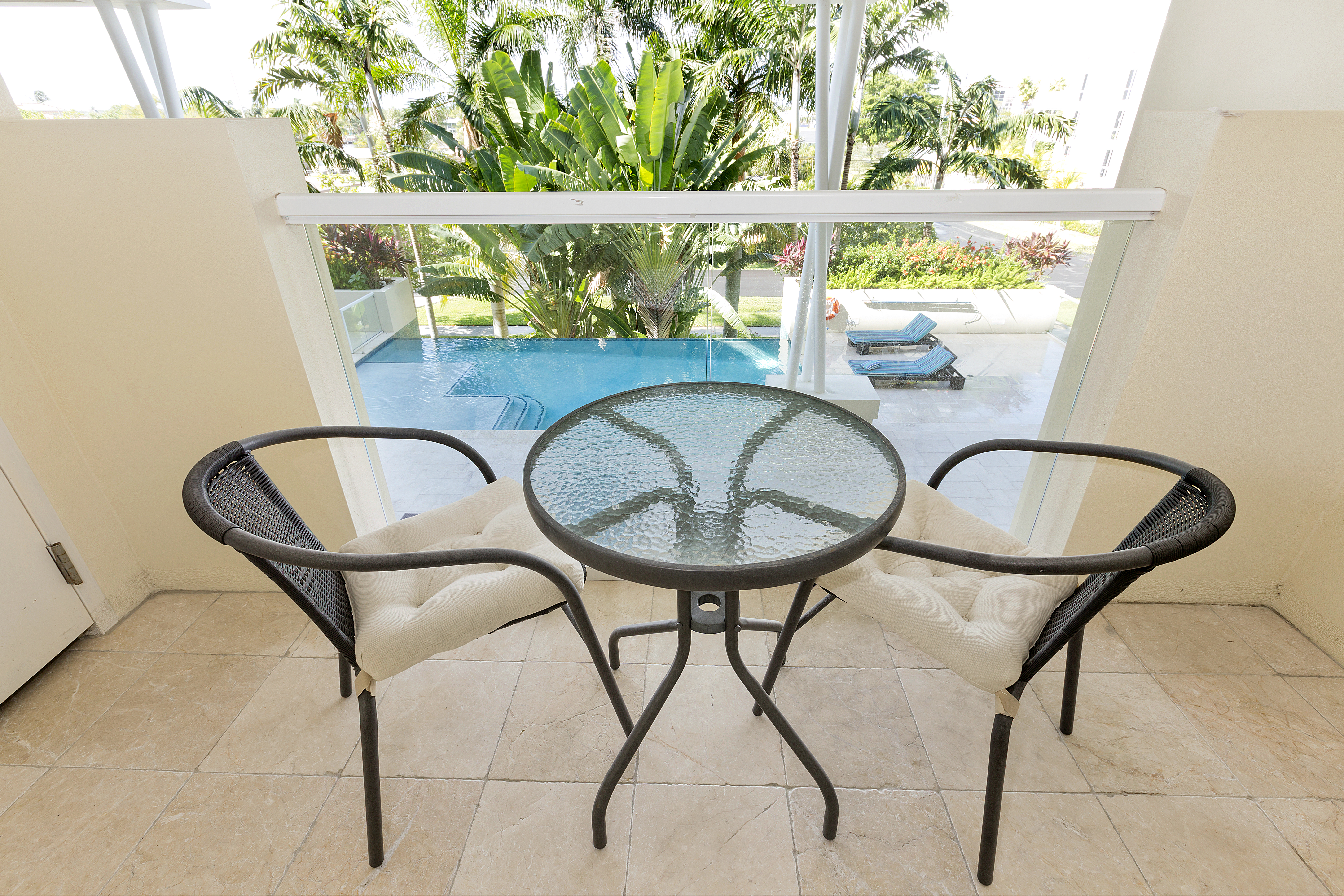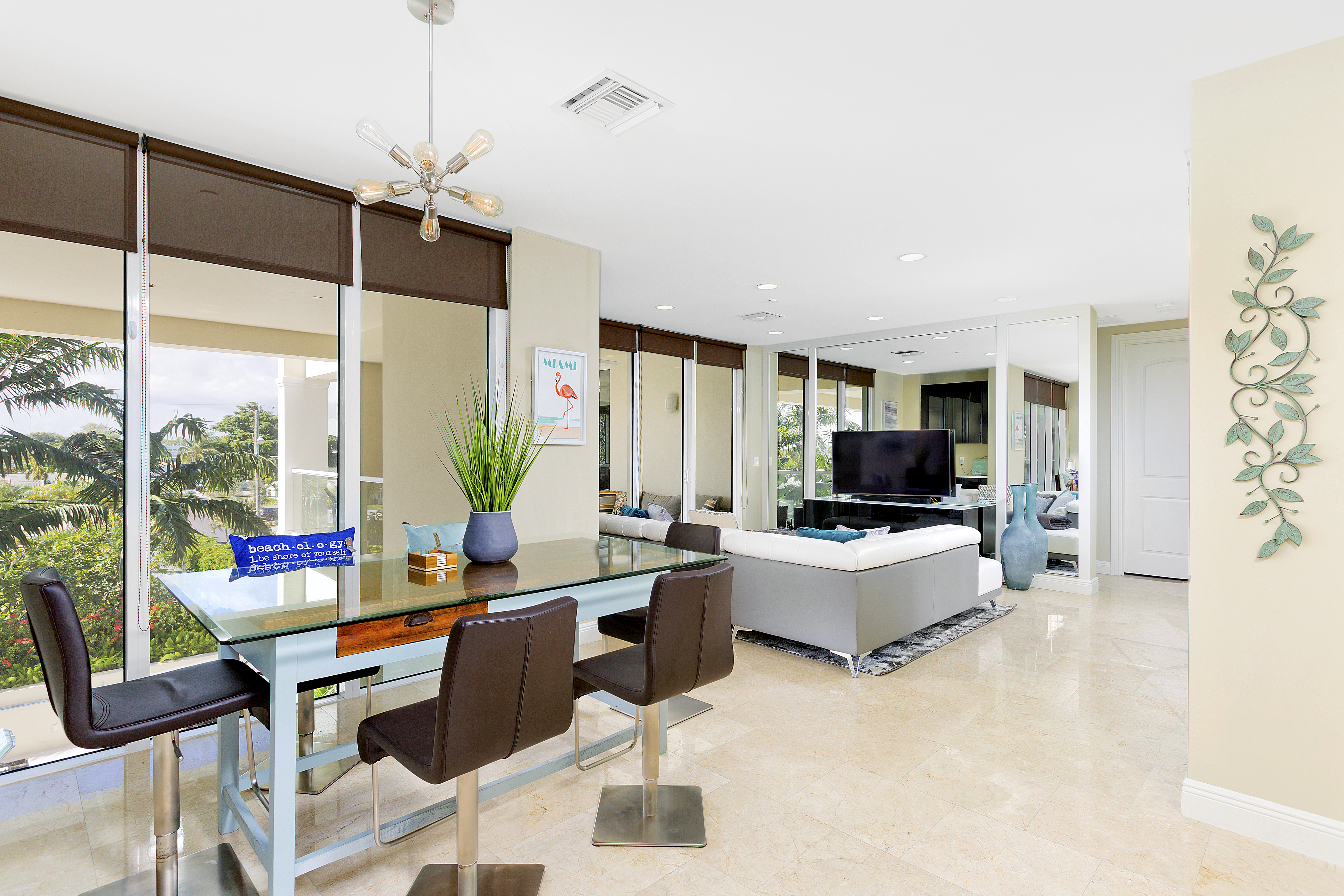 Spacious living room with dining room table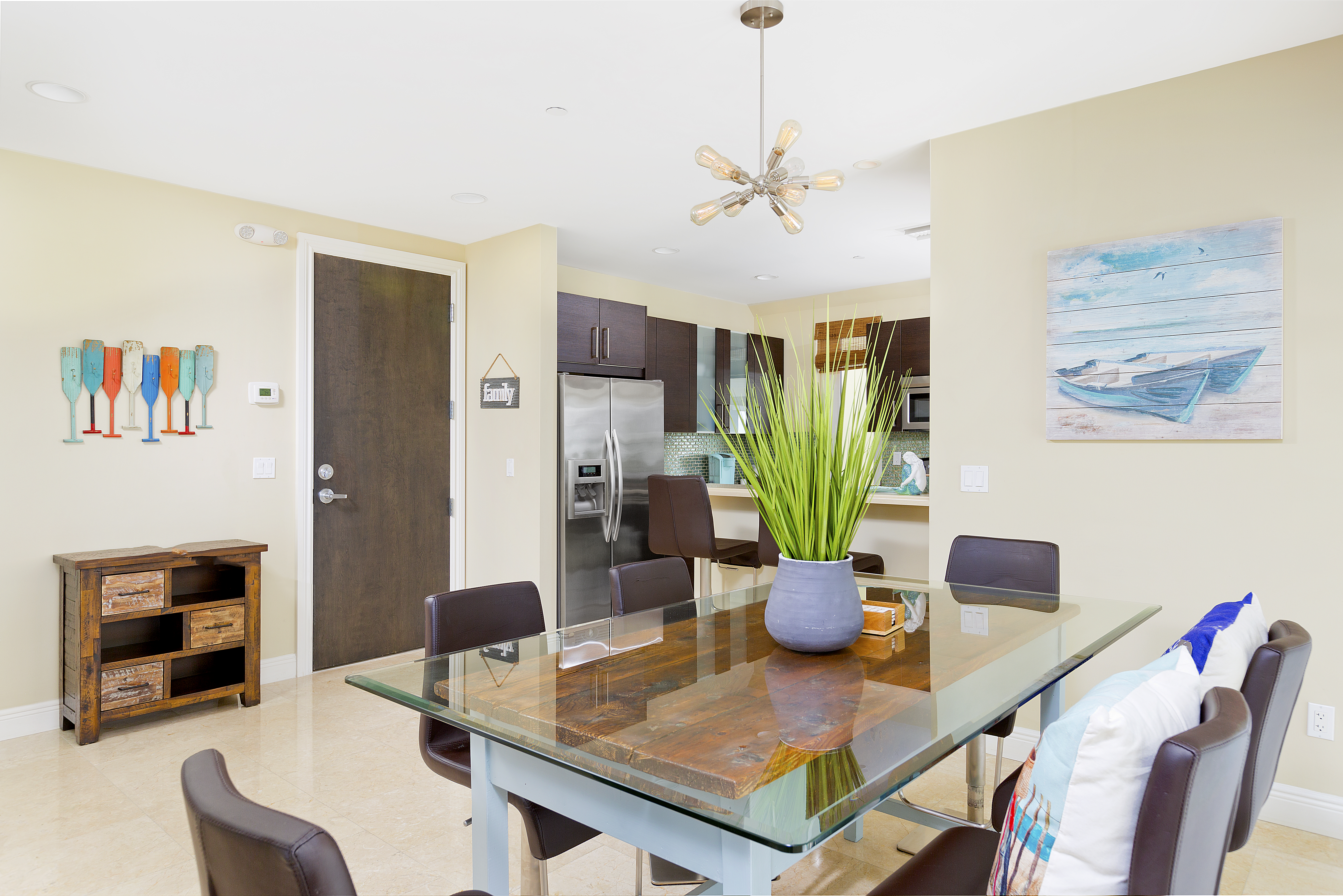 Spacious living room with great view over the pool and outdoor p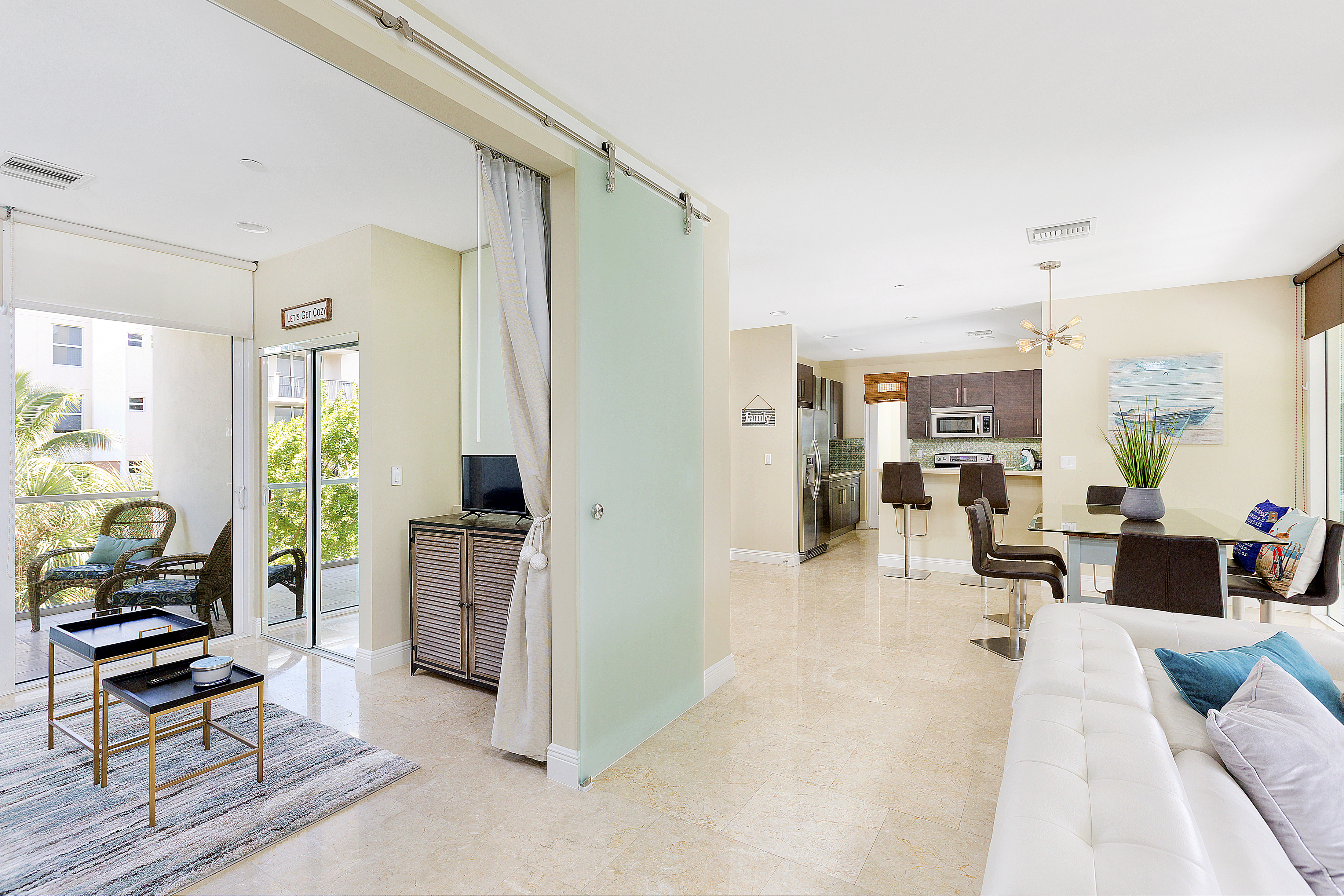 Top modern living room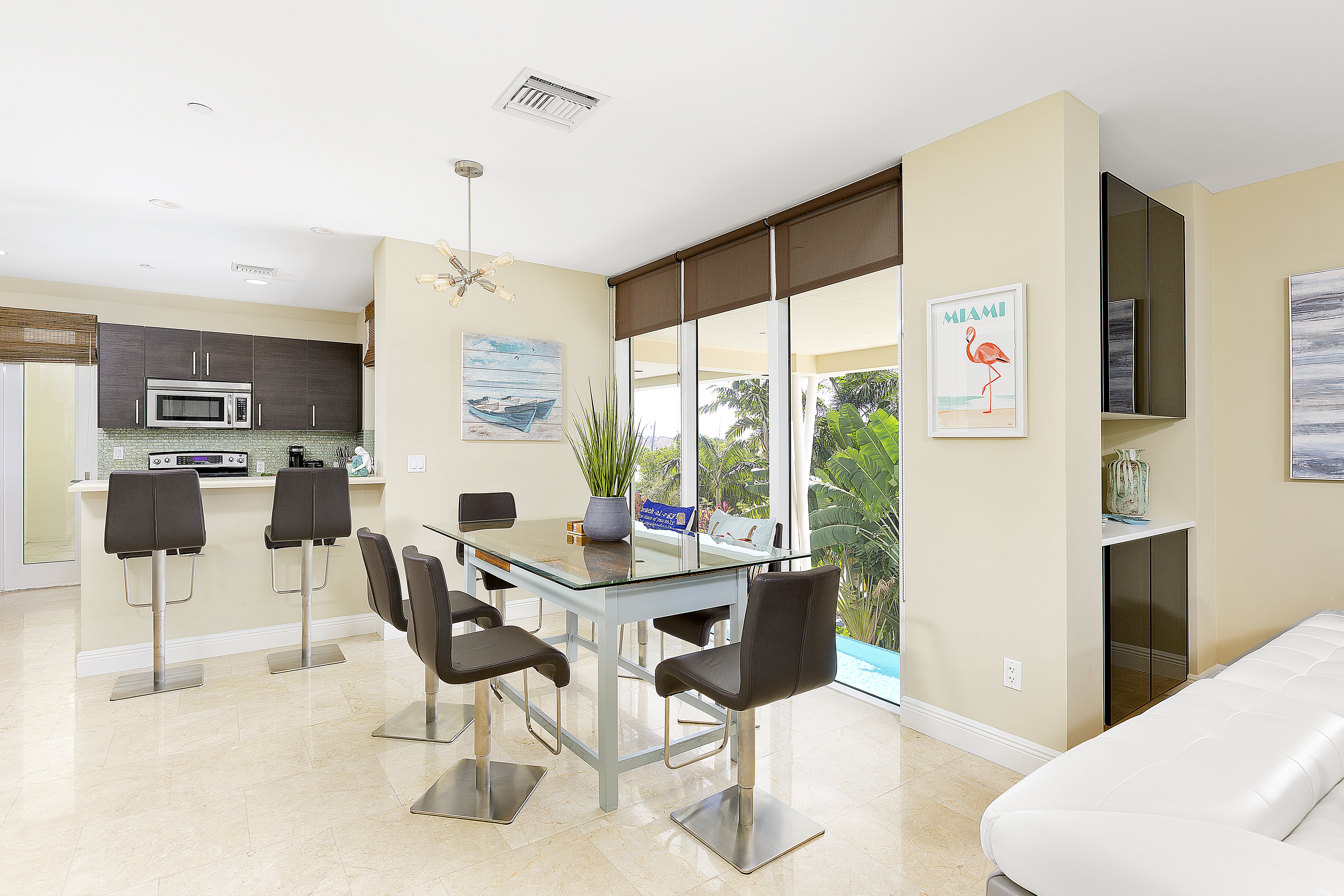 The living room is absolutely gorgeous with a tropical view
Living room, kitchen and outdoor patio all overlooking the pool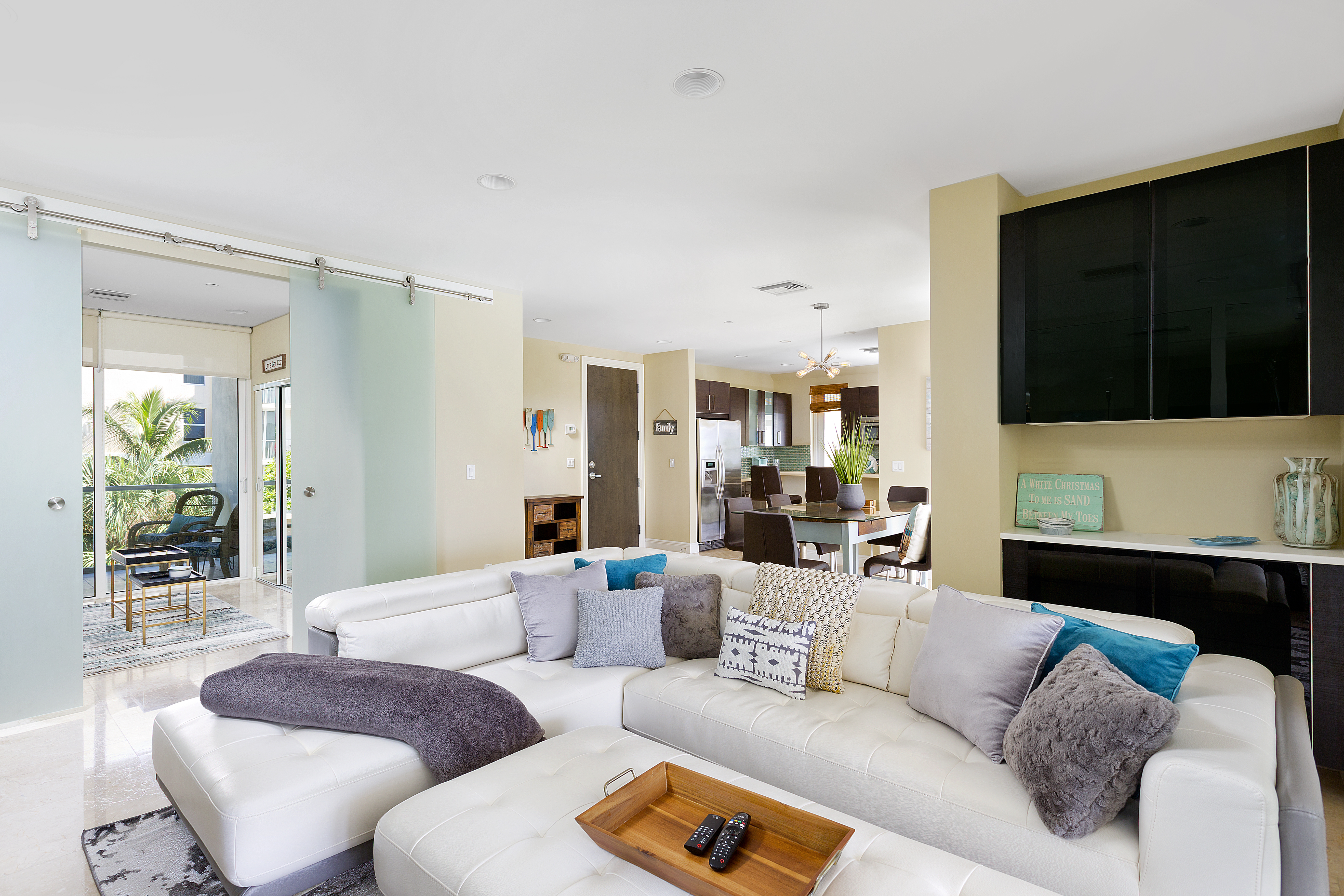 Lounge and TV area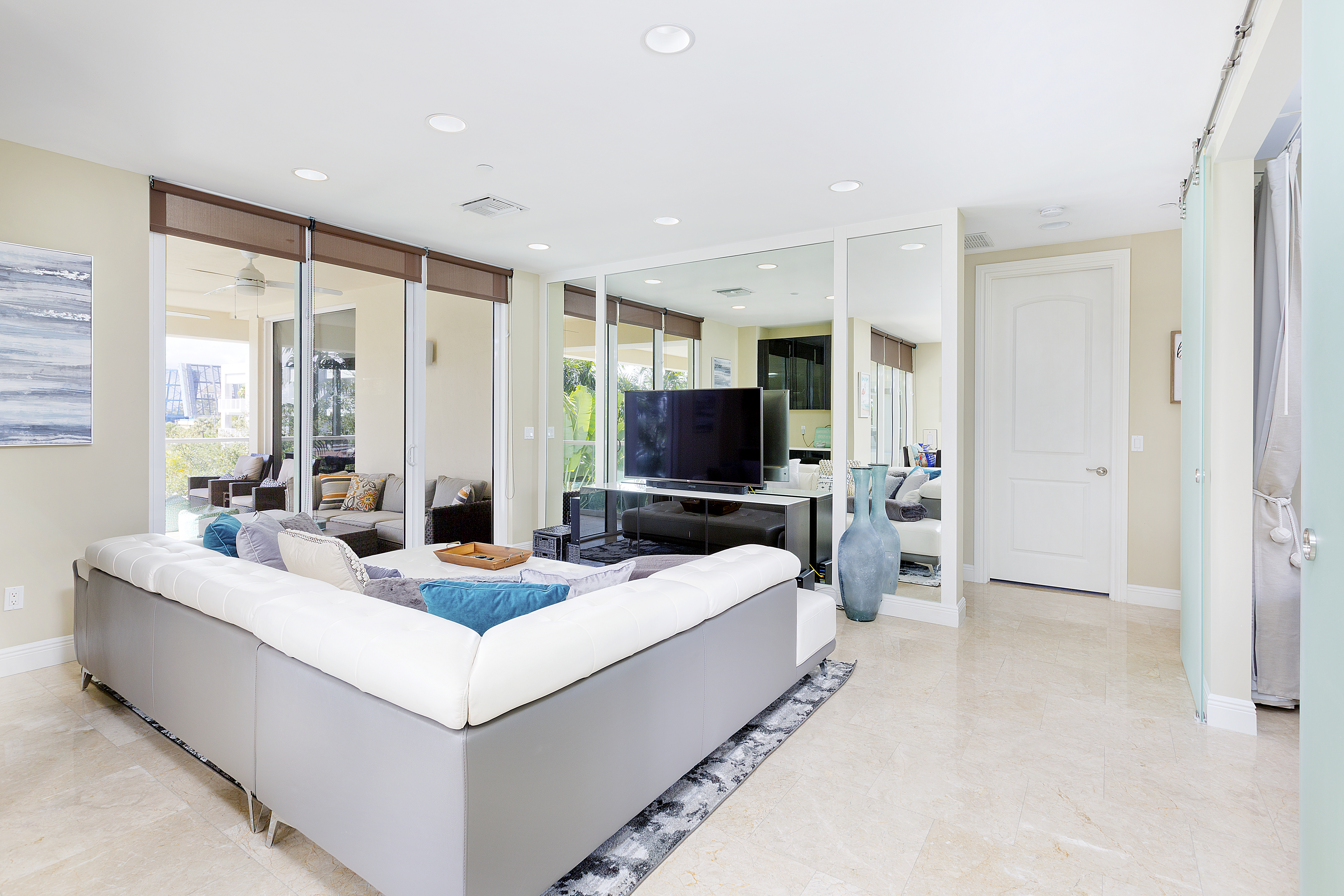 TV lounge with more than 1000 channels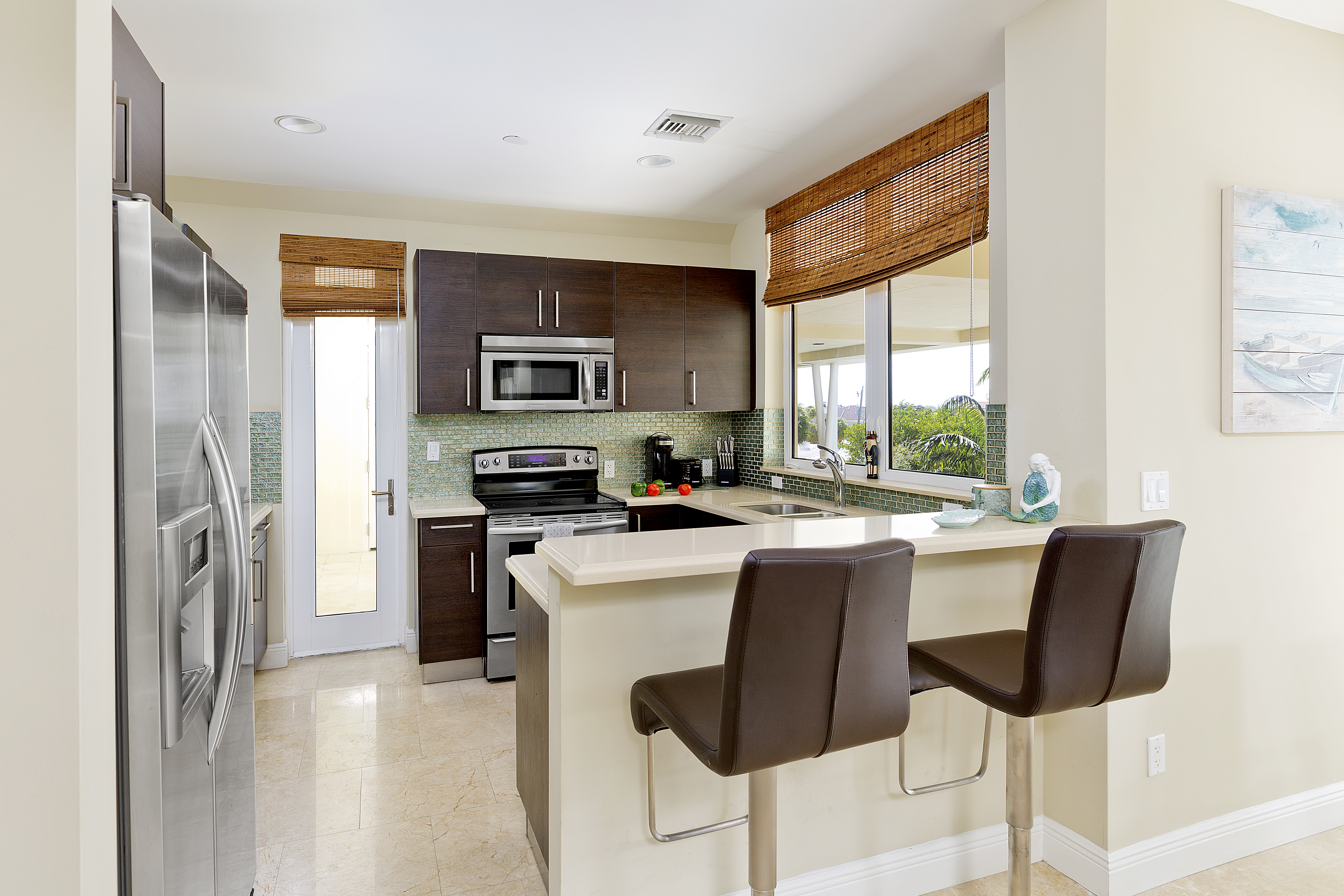 Kitchen area with view over the pool and patio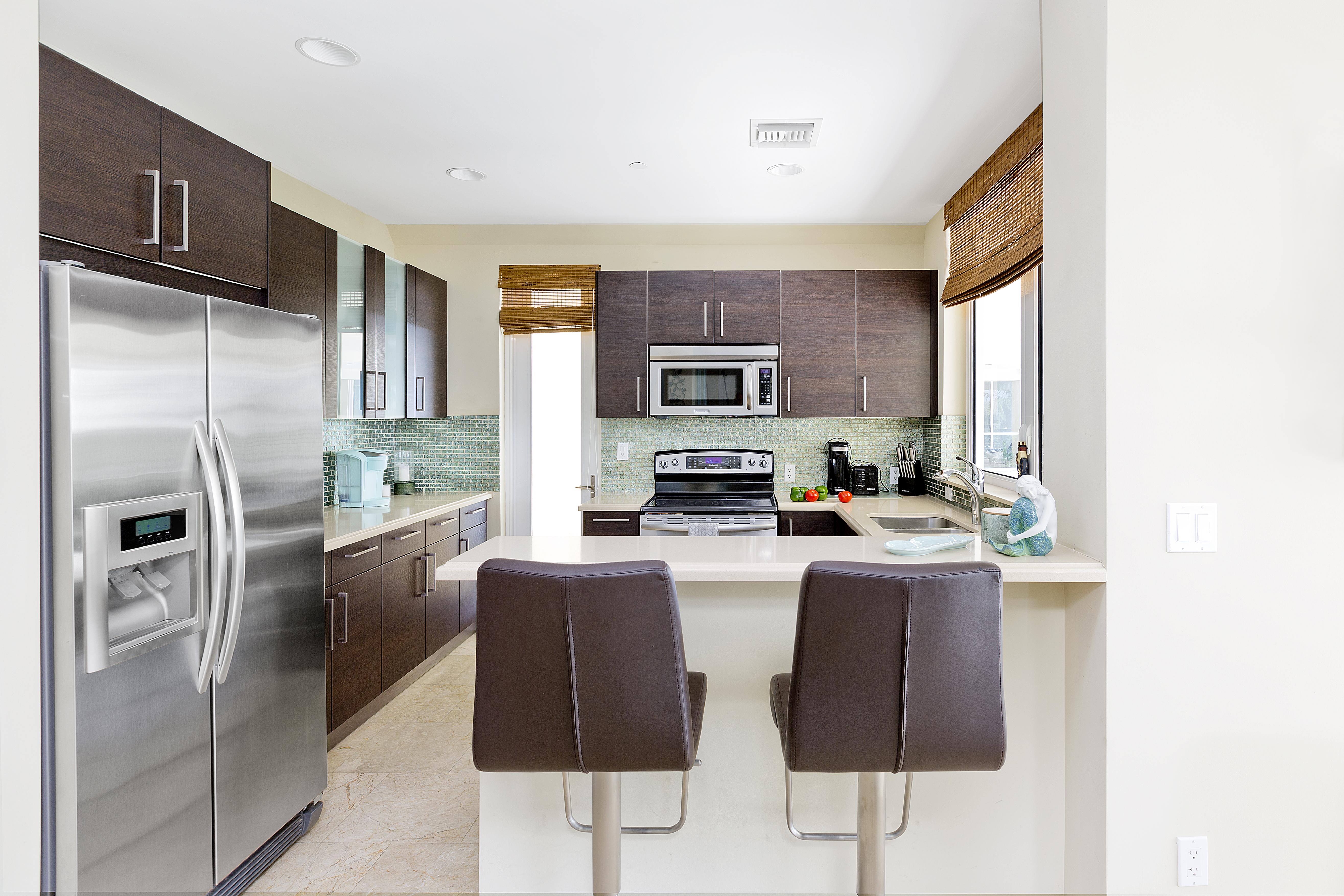 Stainless steel appliances in the kitchen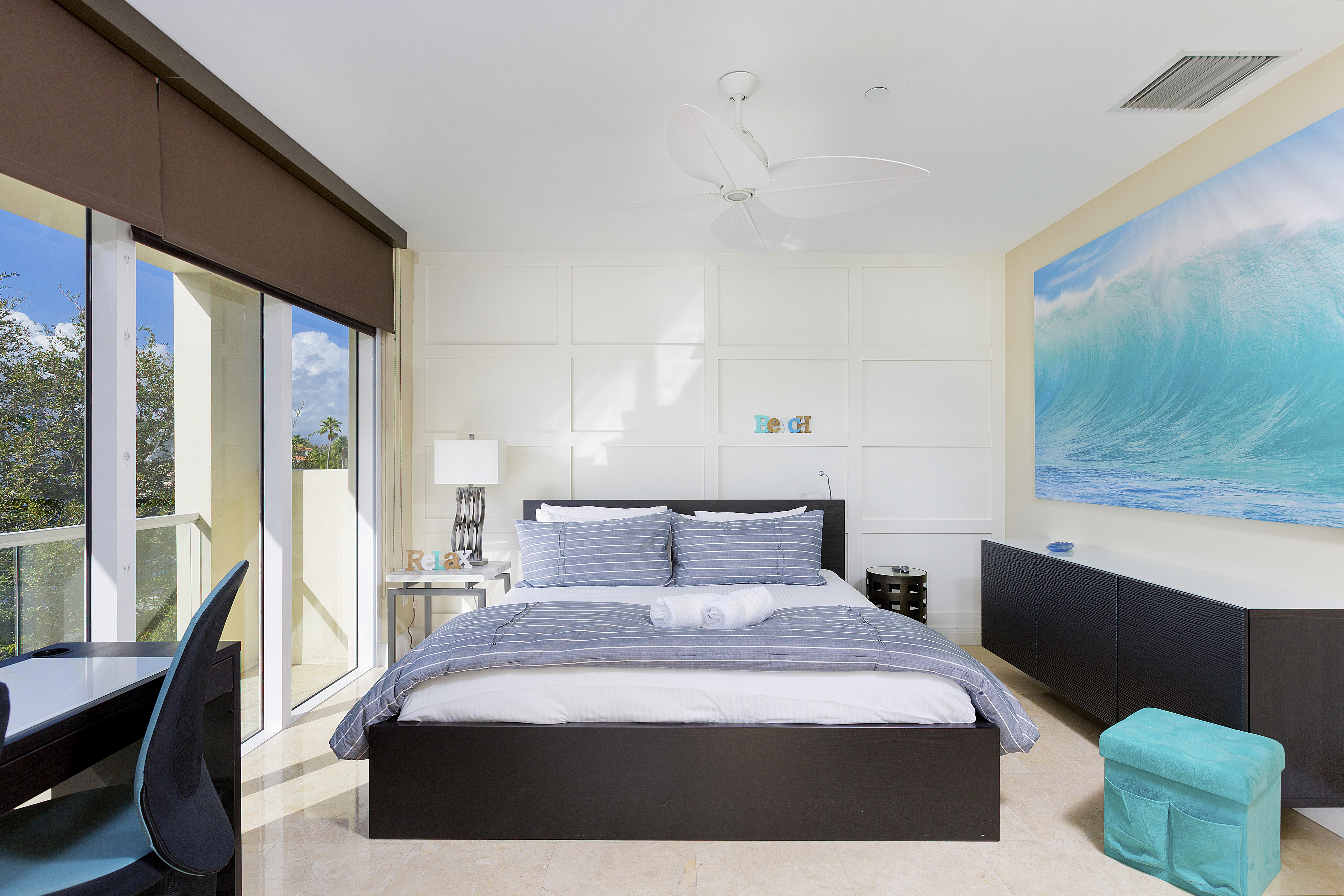 Master bedroom with professionally pressed linens
Master bedroom overlooking the outdoor patio and pool area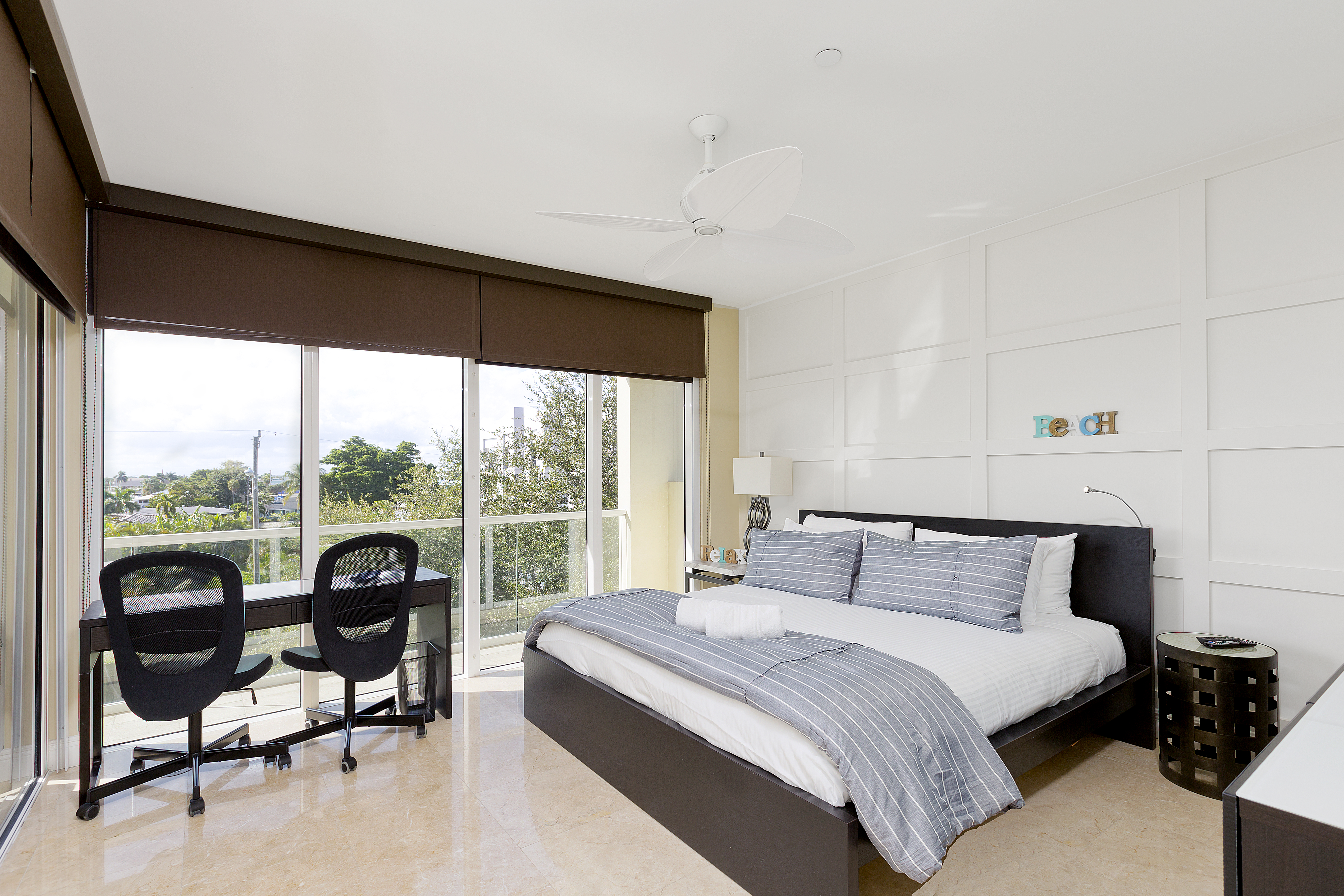 Master bedroom has its own TV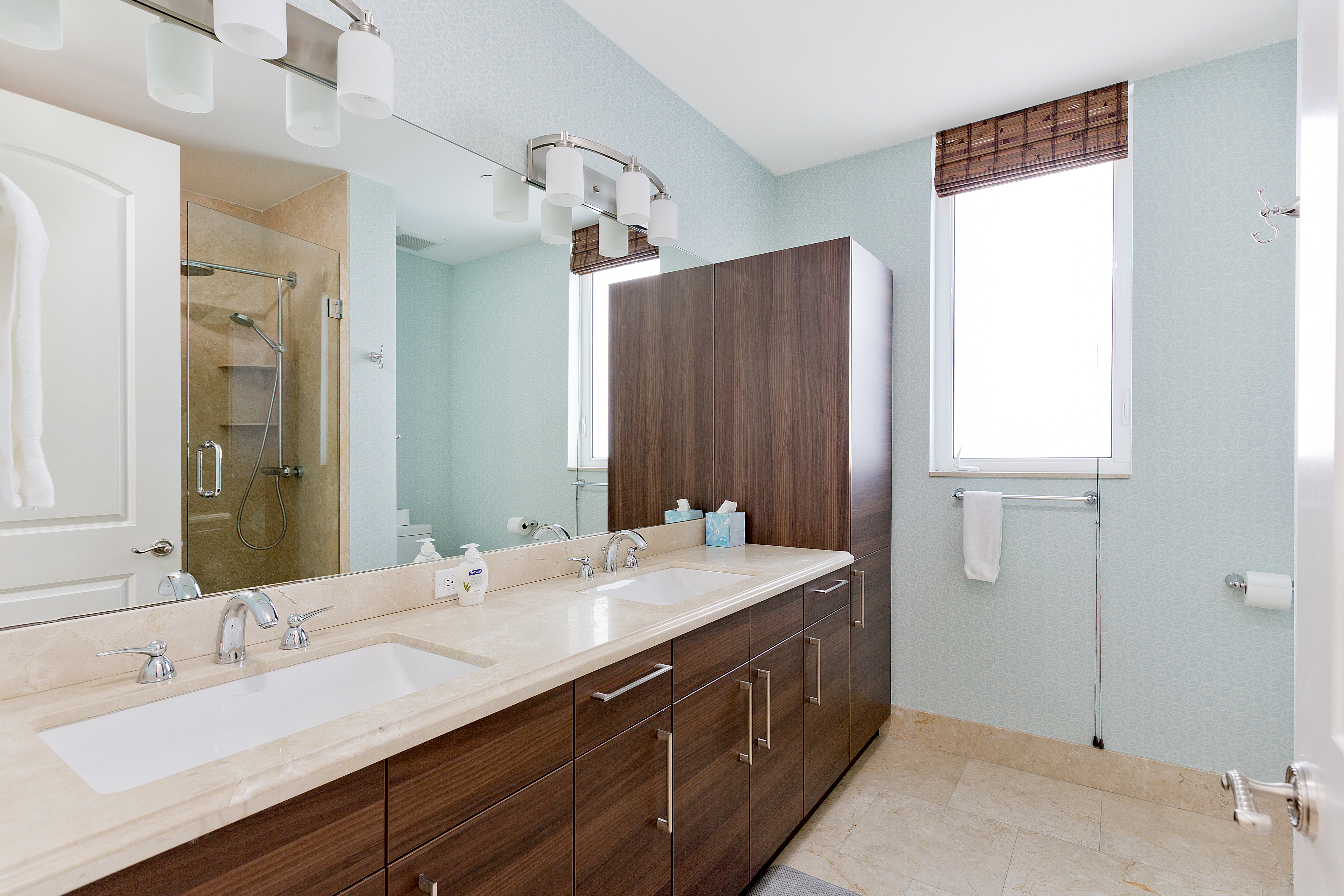 Bathroom is modern with spacious shower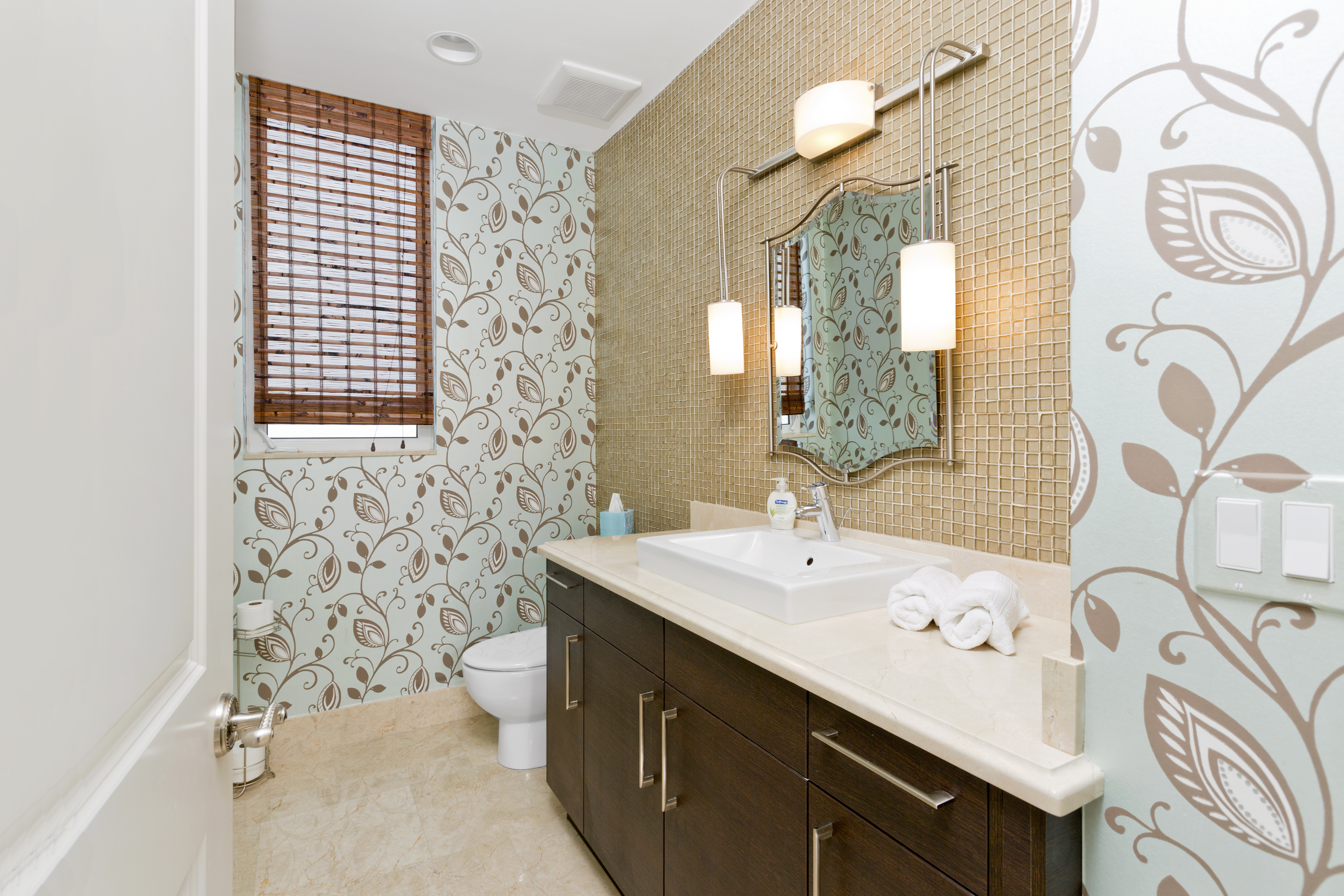 Second bathroom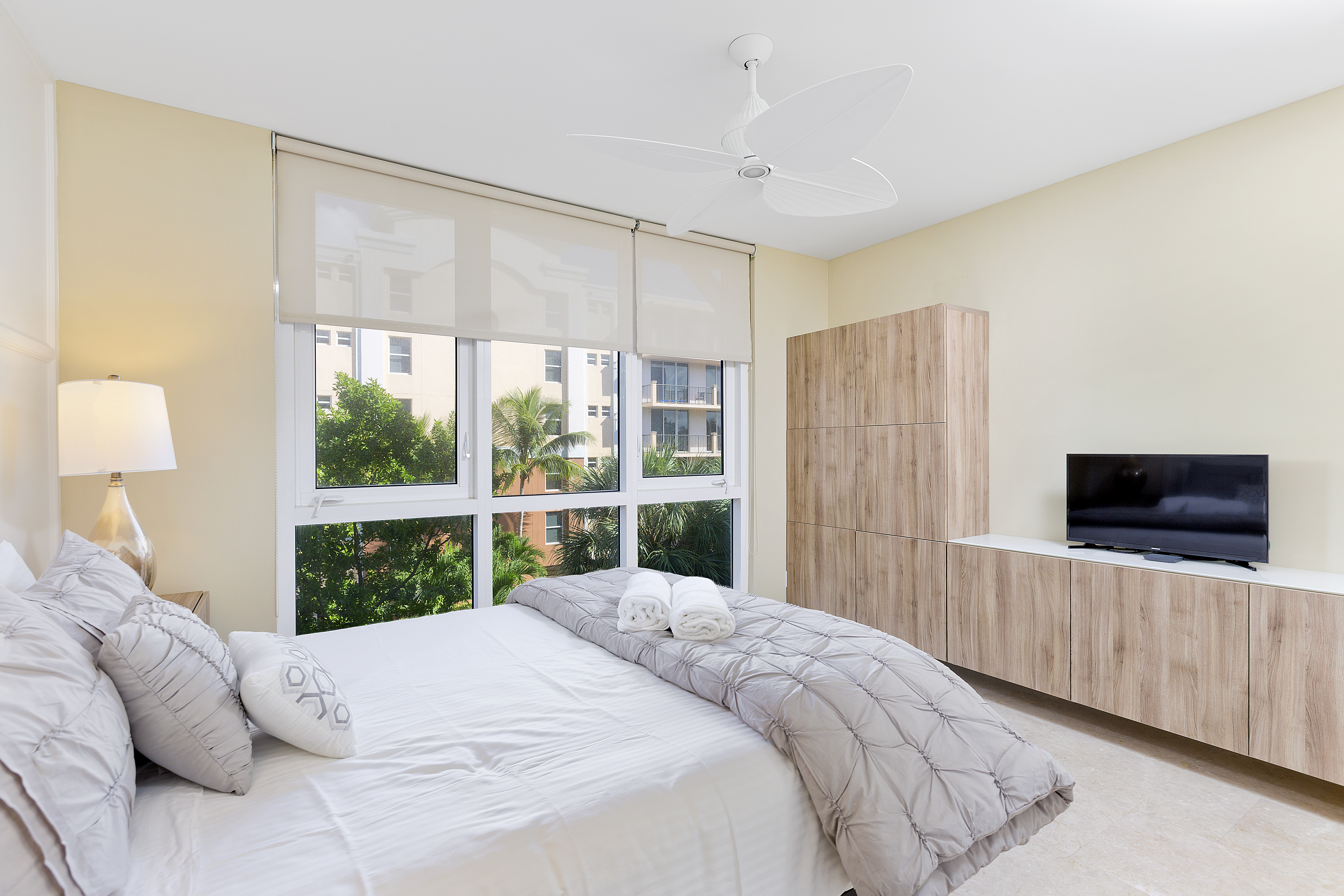 Second bedroom has a very cozy feeling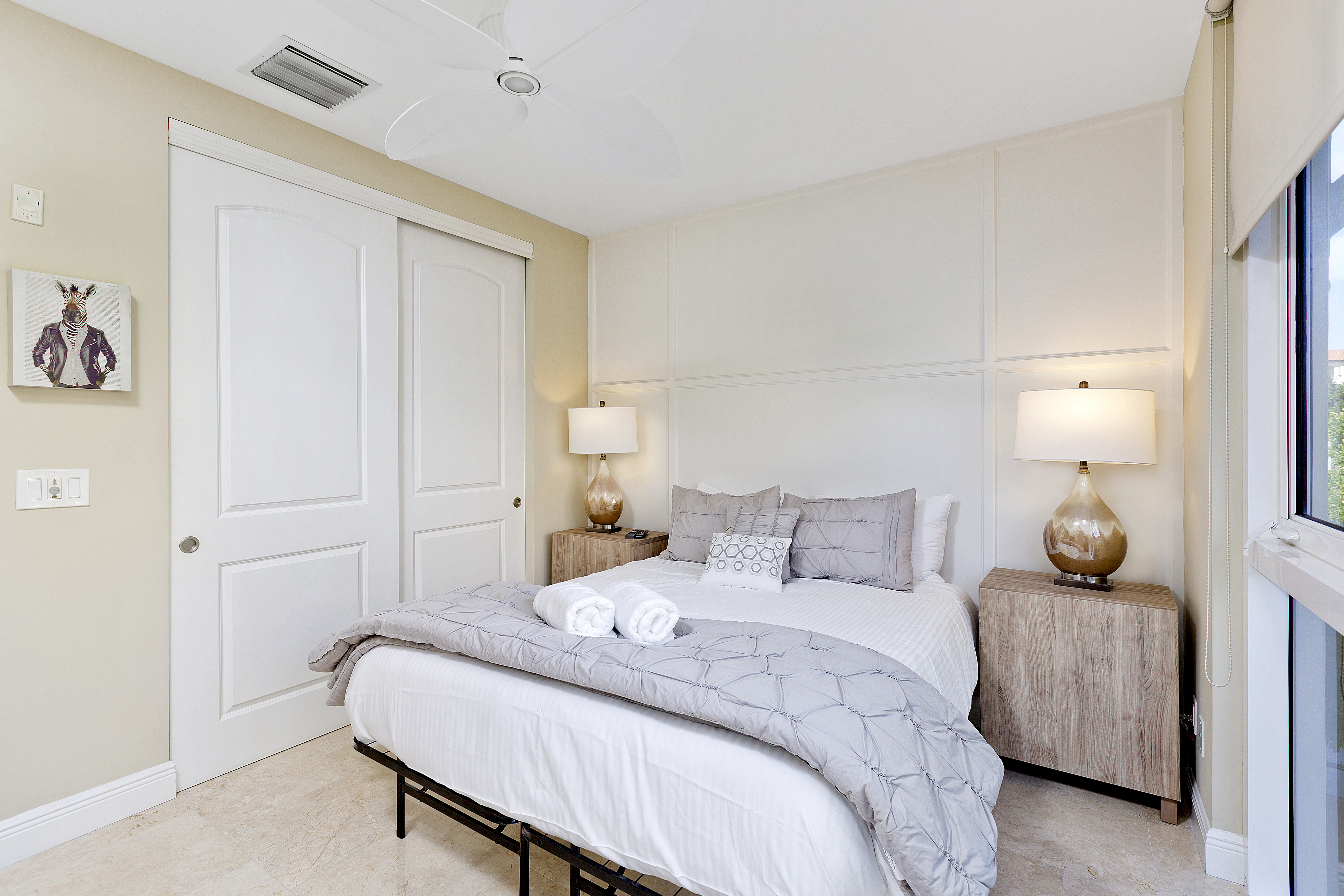 Large closet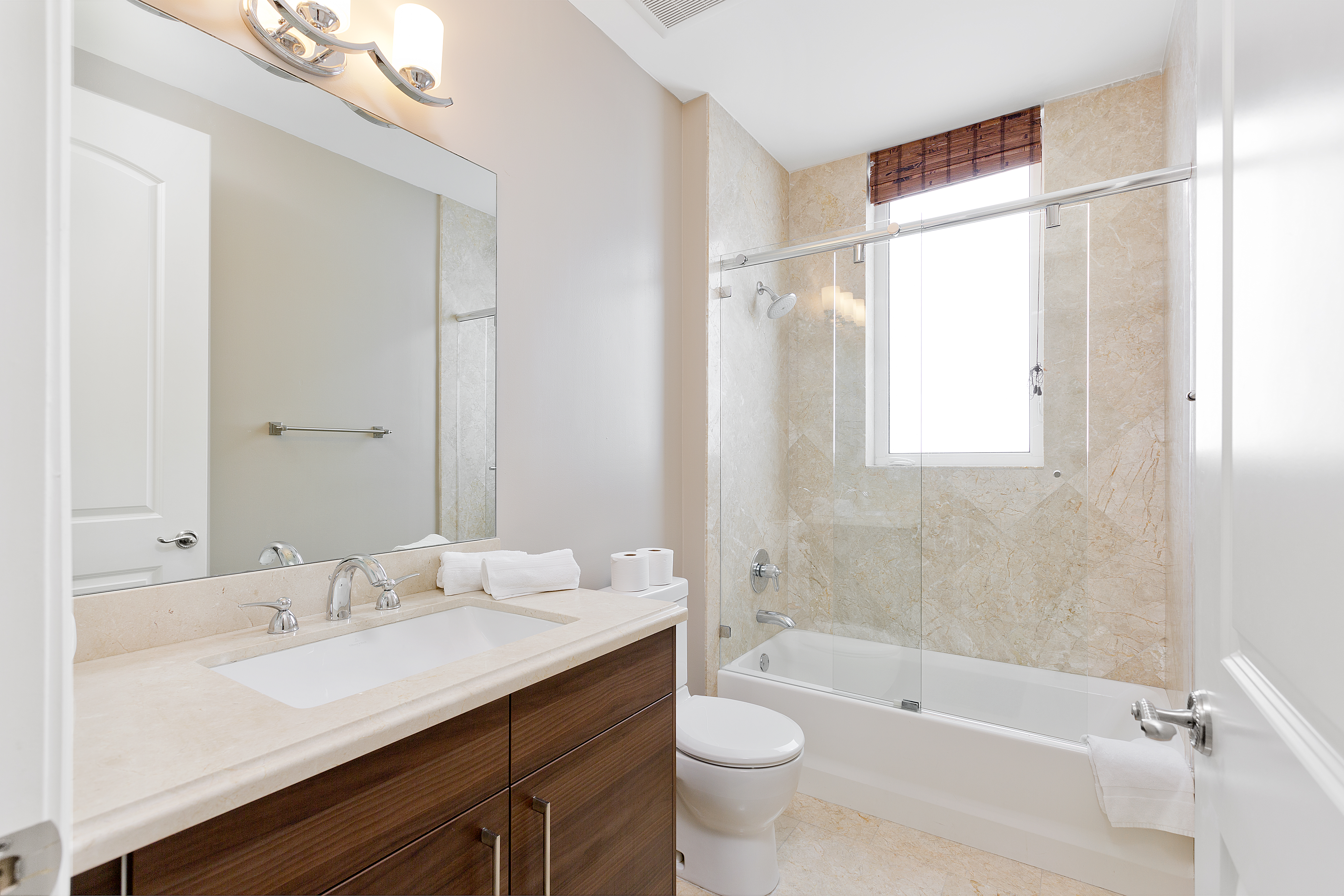 third bathroom with shower and tub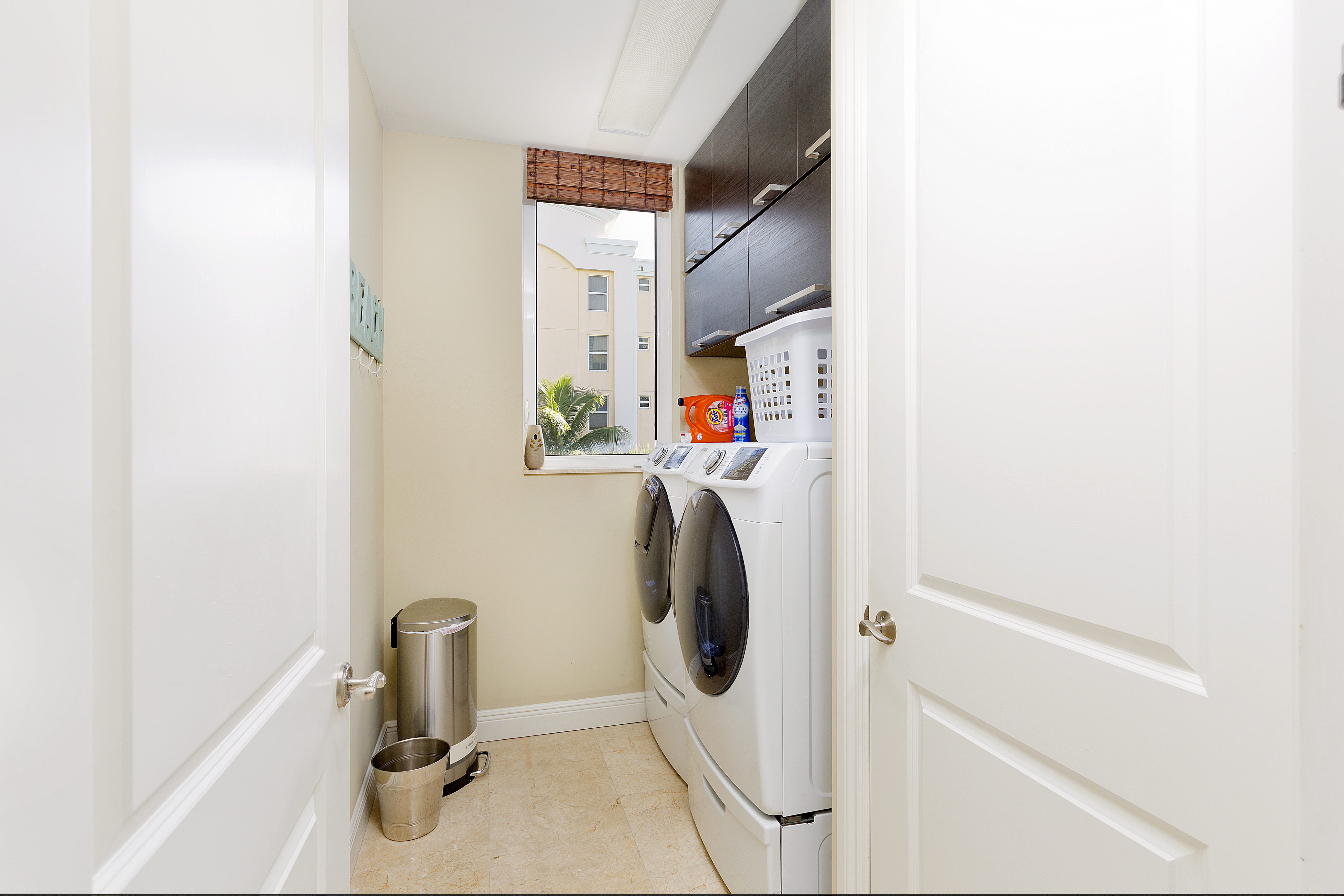 Unit comes with own washer and dryer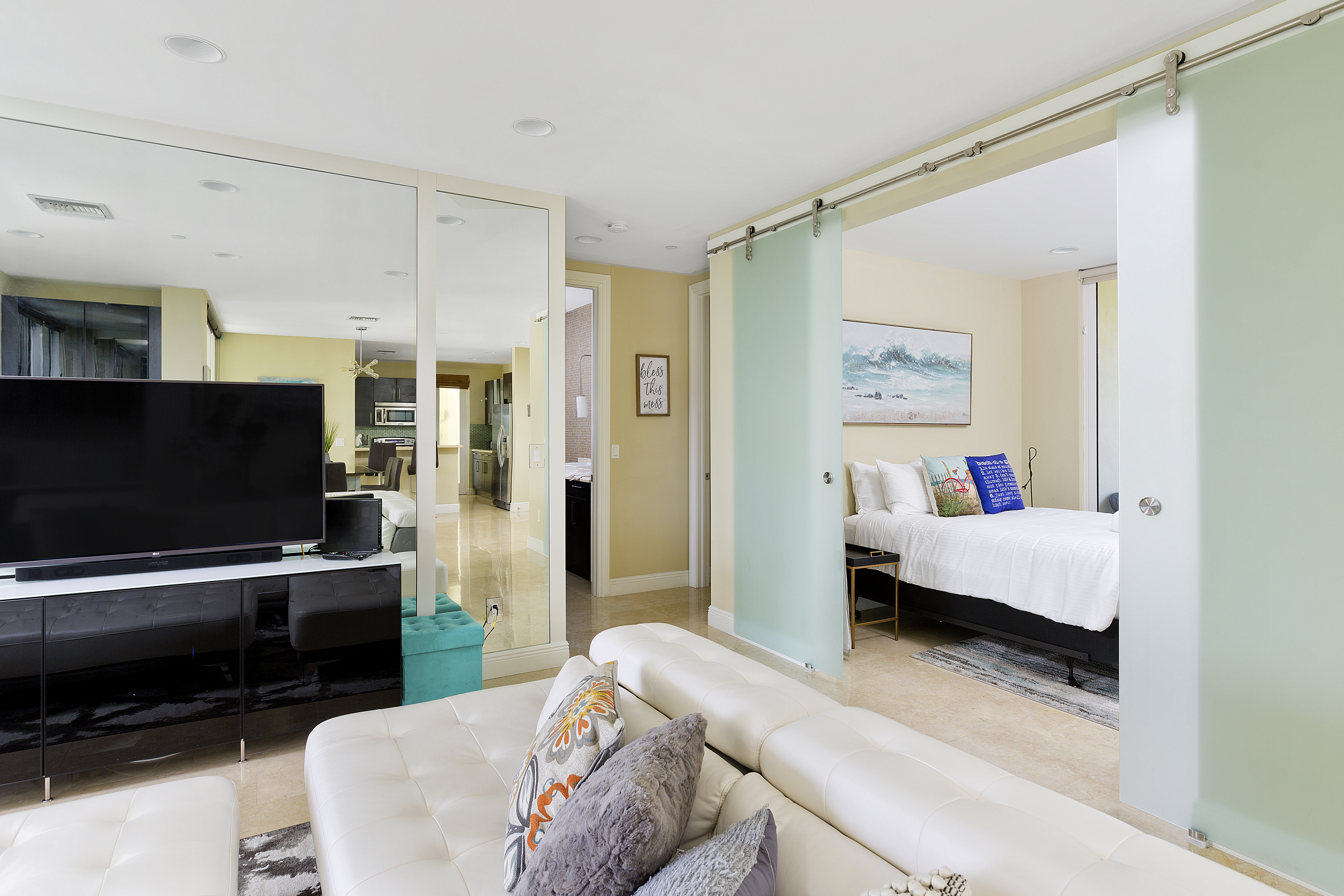 View from living room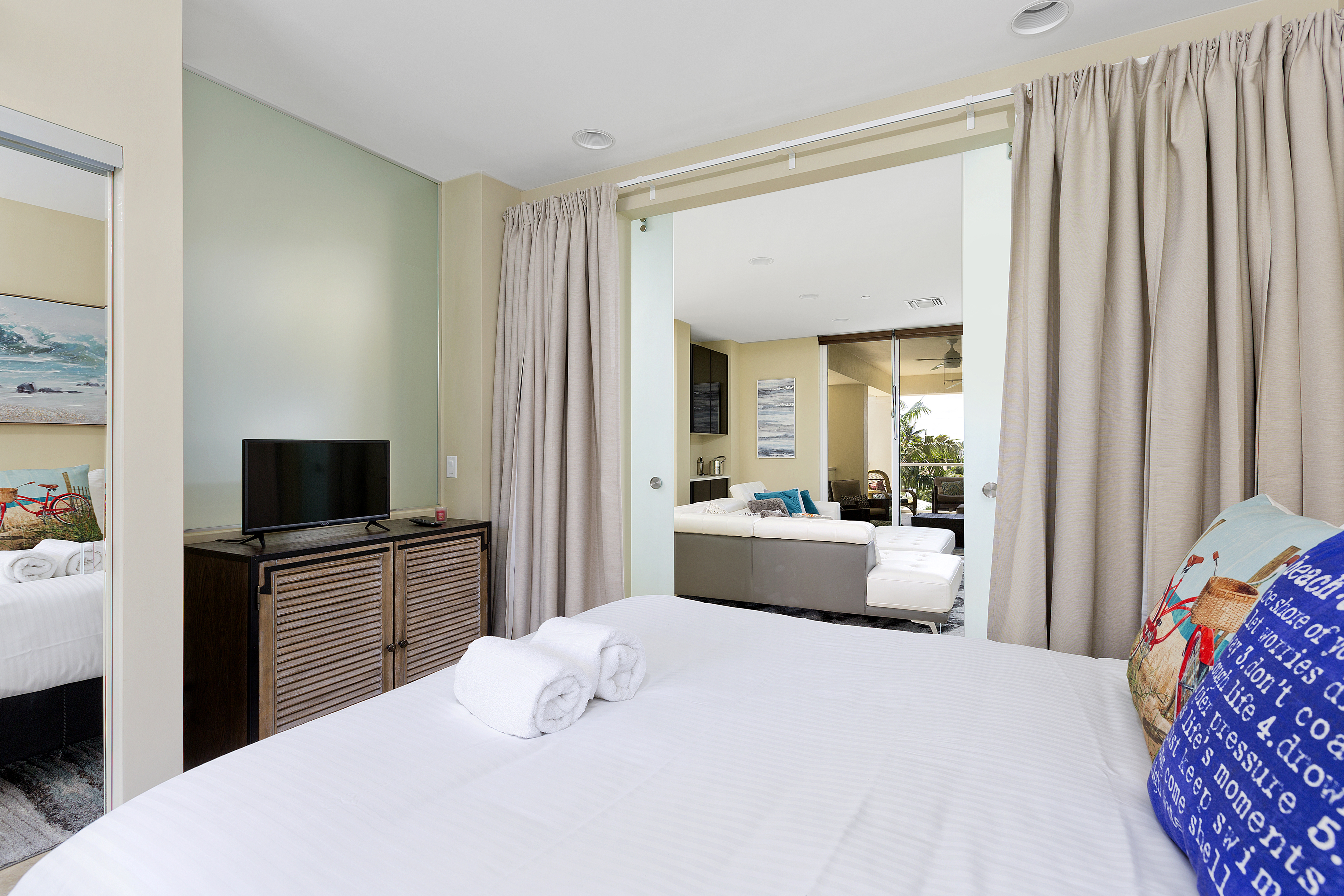 Third bedroom with TV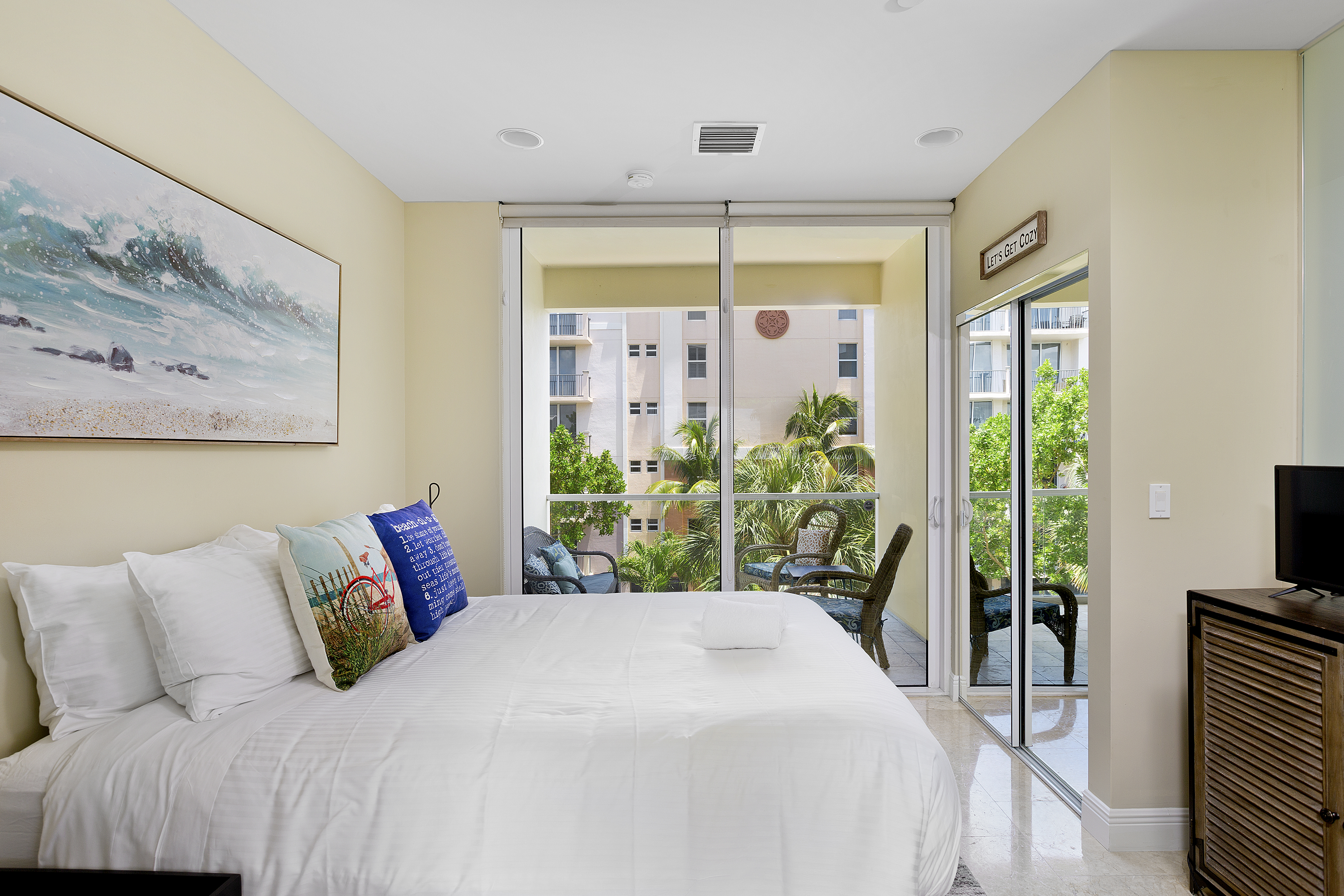 Third bedroom features a queen size bed and own patio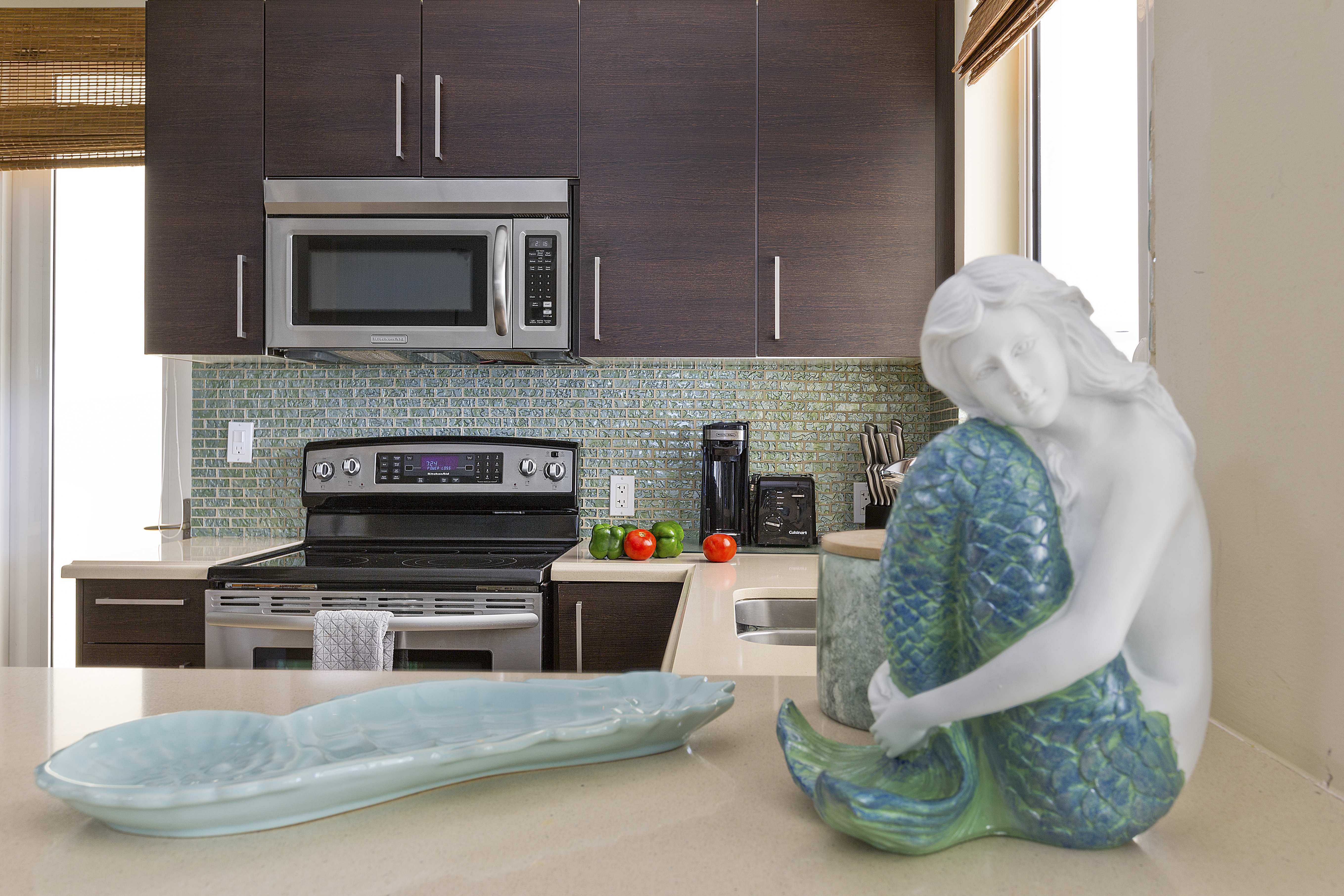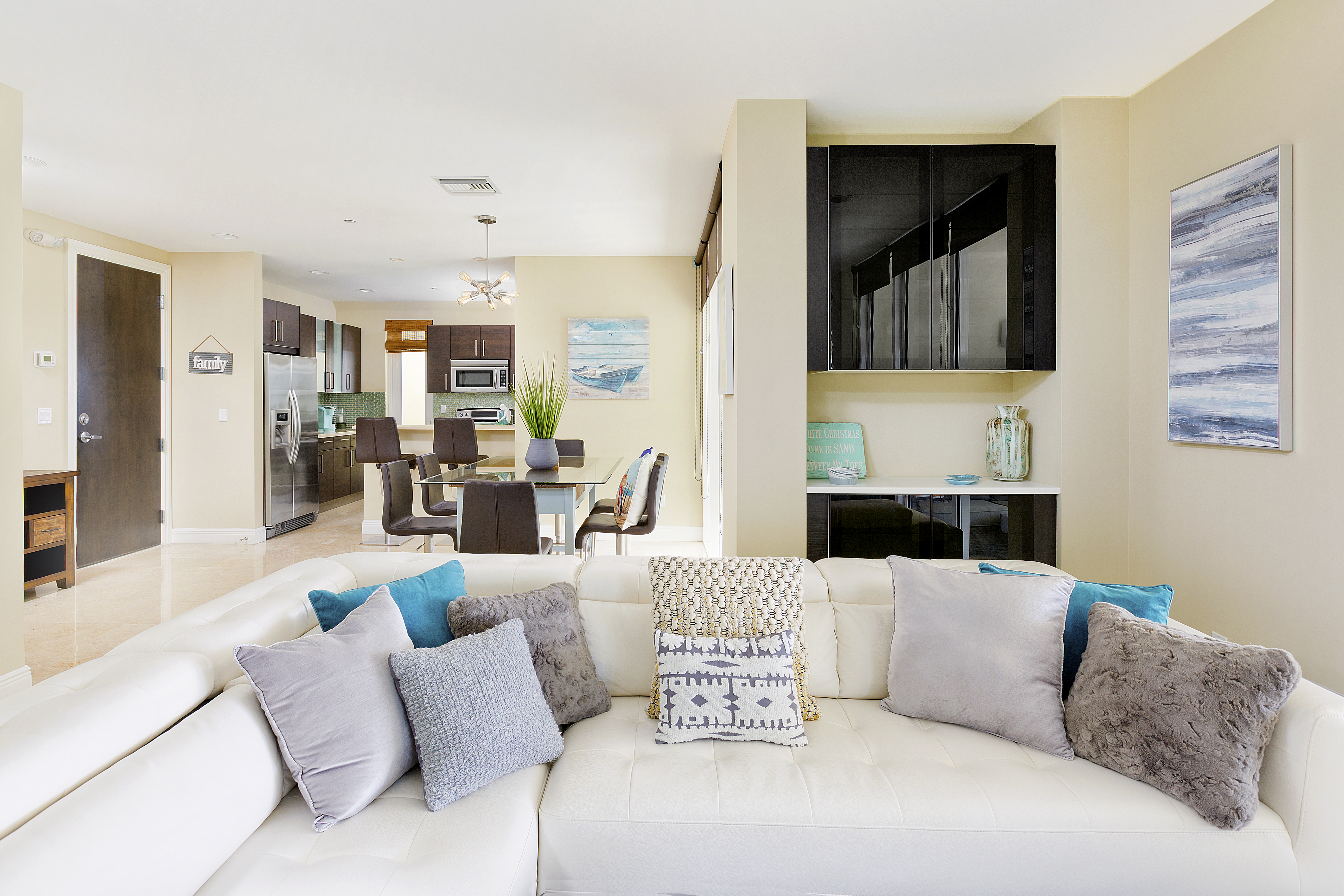 Lounge area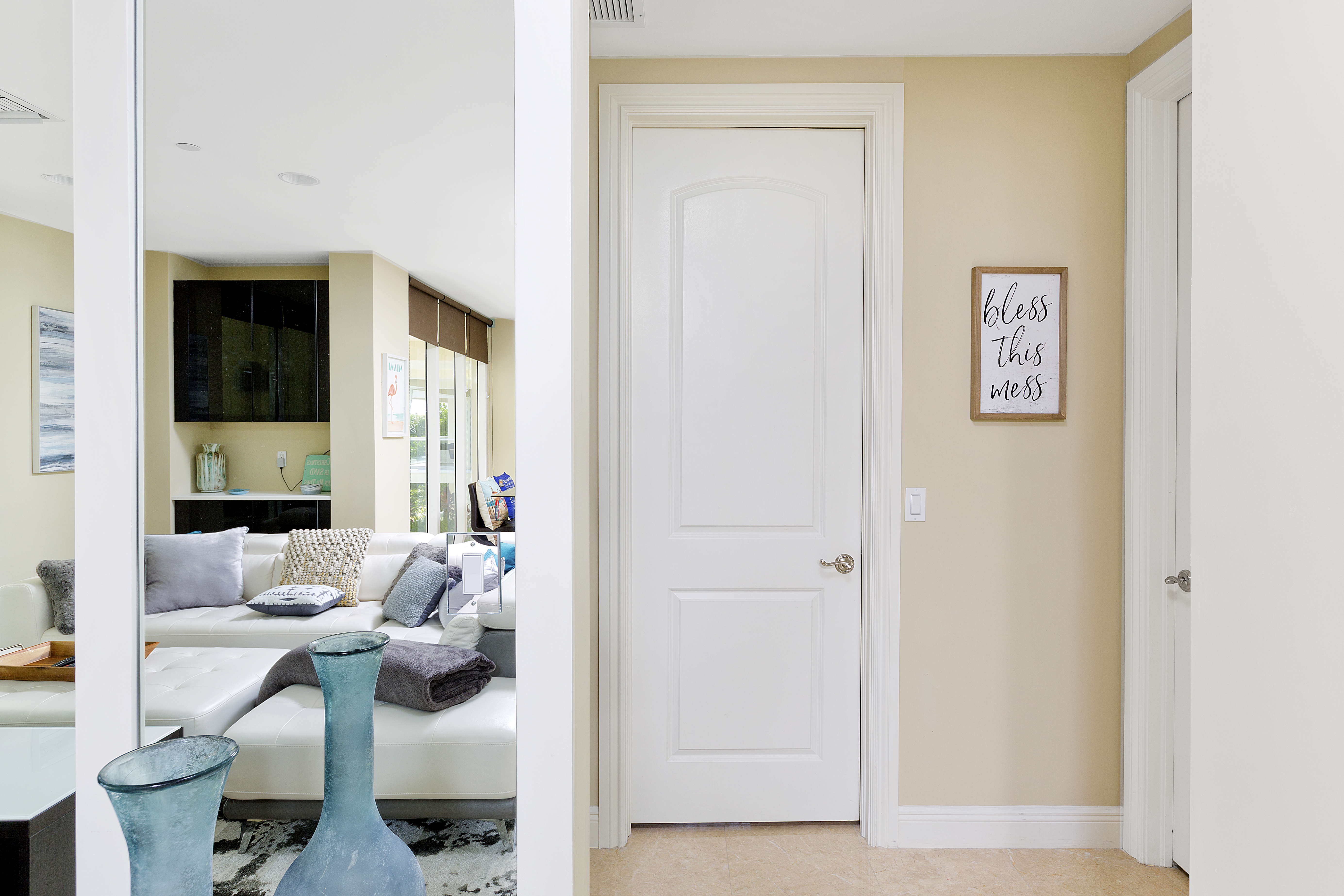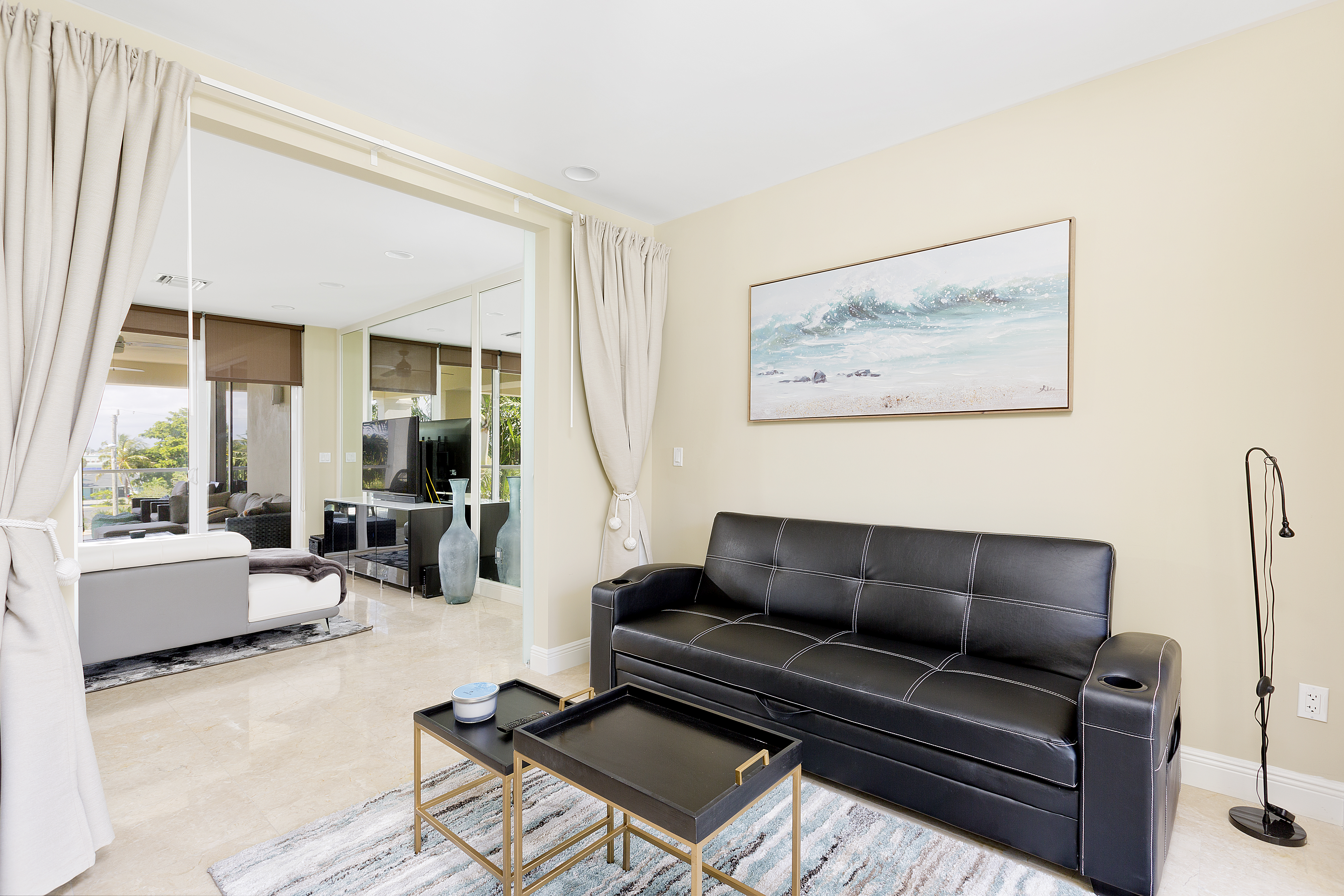 Third bedroom with sleeping sofa and linens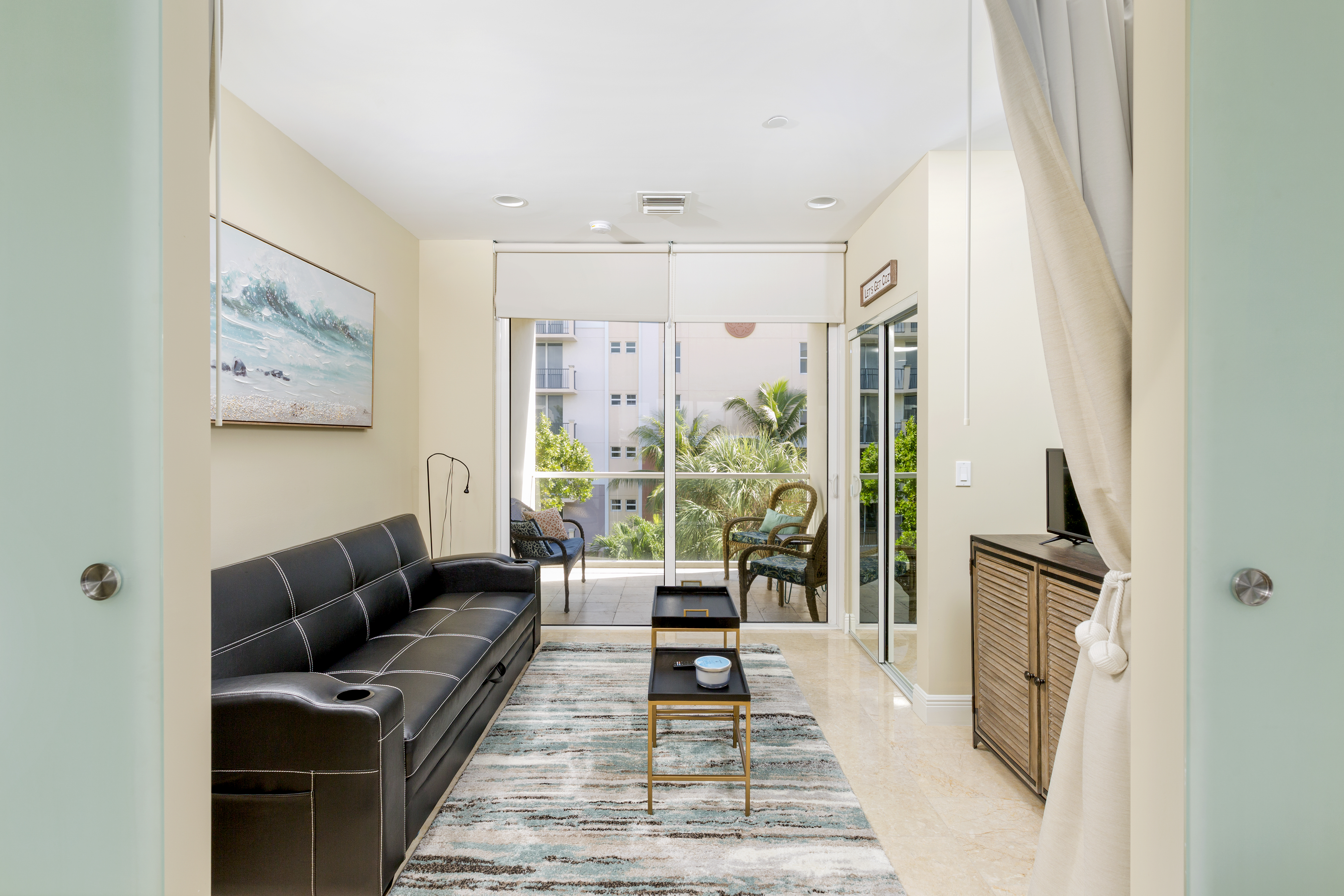 3rd bedroom with sleeping sofa and linens